Home >> Oaxaca >> Huatulco >> ADO Bus Station
ADO Bus Station

Autobuses de Oriente

GPS: 15°46.131'N 96°8.352'W
Chahue Blvd.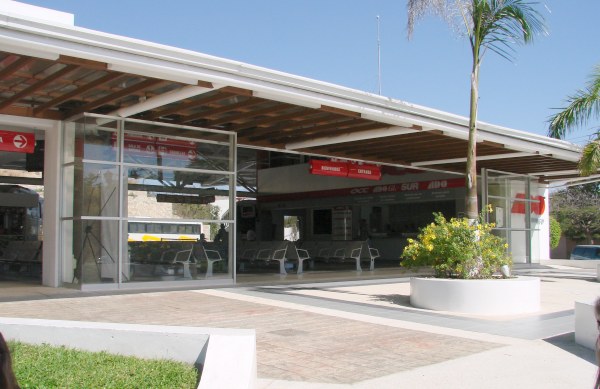 The Huatulco ADO Bus Station on Chahué Blvd.
Background
From Wikipedia:

Autobuses de Oriente, S.A. de C.V. (Autobuses of the East, Inc.; usually known as A.D.O.) is one of the most important Mexican bus companies, running first-class and executive-class buses. It was founded with six buses on December 23, 1939 on the route Mexico City-Puebla-Perote-Jalapa-Veracruz. Its first buses were Bentley Continentals. It was not an easy beginning. In 1939 there was relatively little demand for transport, the roads were dangerous, there were no terminals or repair shops. Each of the founding partners had to serve as driver, baggage handler, mechanic, administrator, etc.

Initially the company covered only the one route, but in the 1950s it added a route to Villahermosa. Other cities served today include Cancún, Oaxaca, Campeche, Cuautla, Huatulco, Mérida and Coatzacoalcos. In Mexico City A.D.O. serves the T.A.P.O. (Terminal de Pasajeros de Oriente) station.

A.D.O.'s motto since 1939 has been Siempre primera (Always first), because it has always used the most modern buses possible, such as the DINA Avante, the DINA Olímpico and the DINA Flexible "Jorobado". At the present time the line uses Mercedes Benz, Volvo or Busscar buses, painted silver with a red wave the length of the bus containing the letters "ADO" in white.

A.D.O. GL (Gran Linea) is the executive class (luxury) service of A.D.O. The company also runs Autotour, a charter bus service, and Multipack, a package express service.
Rates and Schedule
The photo below shows scheduling and pricing for the ADO bus line in Huatulco as of February 2008.
| | | |
| --- | --- | --- |
| Help keep this information current. Email tom@tomzap.com with updates and additions. | &nbsp | Ayúdenme a mantener ésta información al día. Envía tus actualizaciones y adiciónes por e-mail a tom@tomzap.com. |
This page has been visited times since April 27, 2008.
---
| Top of page | Main index | Search | What's new |