Home >> Oaxaca >> Oaxaca, Oaxaca >> An Expatriate Life
Oaxaca, Mexico: an Expatriate Life

featuring "Letters From Oaxaca, Mexico" and "The Oaxaca / Mexico Newsletter".

Stan Gotlieb
Email: send mail
Web: www.realoaxaca.com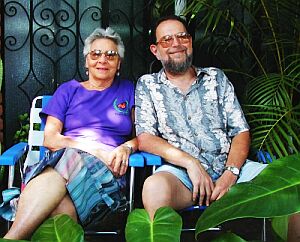 Photo by Dan McWethy

Stan Gotlieb and Diana Ricci have found meaning, contentment, peace, patience and each other in their many years of residence in Oaxaca. They urge whomever has the itch to "c'mon down" and see it for yourself.


Stan Gotlieb, a resident of one of Mexico's most fascinating and diverse cities, has been sharing his insights and ideas about his adopted city and country with visitors and new arrivals for thirteen years.
Diana Ricci is a eighteen-year resident and photographer with a keen eye for what makes a scene universal.

With over 100 "Letters From Oaxaca, México", newspaper op-ed pieces and book chapters, and almost as many Oaxaca / México Newsletters, Stan and Diana have contributed greatly to the body of literature that illuminates the place that they call "Paradise".
All materials copyrighted, 1994-2006 by Stan Gotlieb and tomzap.com
This page has been visited times since January 23, 2006.
---