Home >> Oaxaca >> Piedra de los Moros
Piedra de los Moros

GPS: 15°48'N 96°14'W (the town, not the rock)
Elevation: 558' (170 meters)
The community of Piedra de los Moros is located 4 km north of Hwy 200 between Huatulco and the Huatulco International Airport. Piedra de los Moros means Rock of the Moors--there were Moorish settlers during the time of the Spanish Conquest.
The village has a population of only 141 but is known for the igneous dome situated 1/2 mile east of the village. The dome is a remnant of a suboceanic volcano. (Our young guide disagreed with this assessment.) Visitors may hike up the hill for a view of the surrounding area. In ancient times, the rock was used as a vantage point to watch for approaching invaders (Spaniards or pirates) coming from the south. The intruders were often looking for young girls and for the native hardwoods such as cahoba, cedro, and guanacastle or parota to repair their ships.
We visited Piedra de los Moros in February 2008. We drove too far at first and stopped at the town of San José por lo Viejo before turning back. In Piedra de los Moros, we stopped at a little store in town and asked directions. We were directed up a dirt road across from the store toward the east. At the end of the road, we were met by barking dogs at a home. We asked the lady there are Piedra de los Moros and she called out to Rosalita, a neighbor, and Rosalita became our guide.
Rosalita was a soft-spoken, no-nonsense young girl of about 10 years of age who guided us along a path to los Moros. She dispensed with the barking dogs with a few rocks. It was about a 20-minute walk. There several varieties of some very thorny vegetation along the way that she pointed out to us. We passed by a well along the way. Finally we came to a hillside where we had a nice view of the rock. We crossed the small valley between and followed the trail up the side of the rock.
On top there was a cross which had been erected in 1927. The view from on top was beautiful even though it was the dry season and most of the vegetation was brown. You could see the town of Arroyo Gonzales to the south.
See More Photos.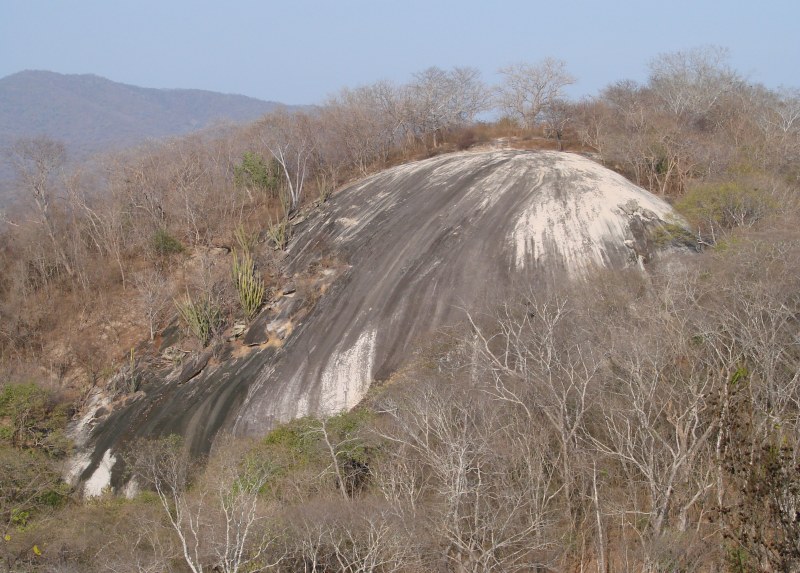 Piedra de los Moros. GPS 15°48.096'N 96°13.846'W. See More Photos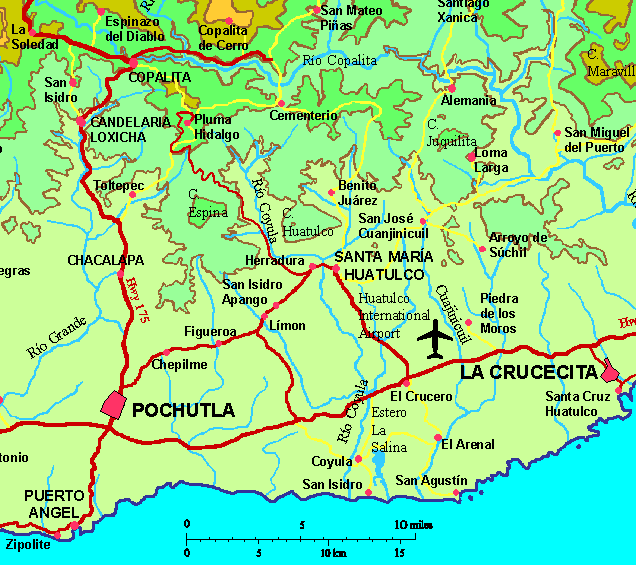 ---
This page has been visited

times since March 13, 2008.
| Top of page | Main index | Search | What's new |

The Pacific Coast of Mexico

www.tomzap.com

Tom Penick:&nbsp tom@tomzap.com