The Río Verde drains a large portion of the state of Oaxaca including some of the central valleys. It's tributaries include Río Tataltepec, Río Atoyac, Río Colorado, Río Grande, Río Putla, and Peñoles.

There is a proposal to construct a large dam on the river at Paso de la Reina. Municipalities that would be flooded include Santiago Ixtayutla, Santa Cruz Zenzontepec, Santiago Tetepec, Santiago Jamiltepec, Tataltepec de Valdés and San Pedro de Tuxtepec. Opposition to the project cites the environmental impact on ecosystems including the coastal wetlands, impact on the displaced indigenous population, and the staggering expense to the state of Oaxaca, already one of the poorest in Mexico. Another consideration is the loss of prehispanic archaeological sites in the river valley.

Know something more about Río Verde? Send your info to tomzap.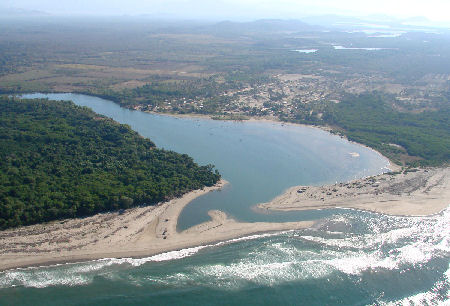 Río Verde empties into the Pacific Ocean at the town of El Azufre.
See more Aerial Photos.