Home >> Oaxaca >> Exploring Belize
Exploring Belize

An excursion to Belize

by Sheila Clarke palomaspto@yahoo.com
January 2011

Sheila Clarke, who has been teaching English in her own small language institute in Puerto Escondido since 1993, writes a monthly letter/essay for her family and friends. In her January 2011 letter she wrote about her recent trip to Belize. - tomzap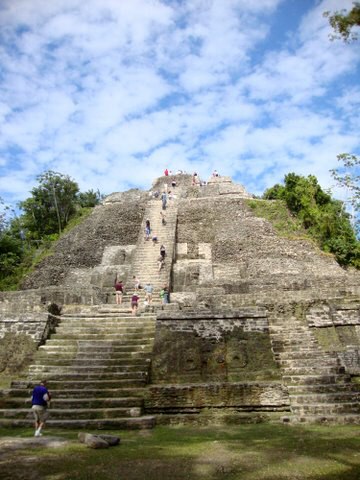 Lamanai, Mayan city, once home to 35,000 Maya
More Photos

All that incertidumbre--uncertainty, but Belize called. I went and I'm glad, despite the three days lost in travel with detours to Houston. I passed through eight airport security checks and four customs and immigration revisions on my way to and from Central America's second smallest country, the only English-speaking country among the seven.


There were surprises in store: To begin with, Belize (Bay LEEZ--hard 'z' and doesn't rhyme with 'please') has only 350,000 inhabitants in the whole country! The smallest country in Central America, El Salvador, has over 7,000,000. While a smiling young Queen Elizabeth still graces all paper money, Belize will celebrate 30 years of independence from Britain this year. Despite more than a century and a half of occupation by the British, few Belizeans are Episcopalians/Anglicans; the majority are Catholic with the many evangelical religions taking firm hold. The cost of living is very high. I was back in a land of Standard units: inches, feet, gallons and miles, leaving the U.S. and Belize as the only two countries in the Western Hemisphere not on the metric system.


Although the official language of the country is English, what I heard most often was Creole, a pigeon English patois, but, too, I caught a fair amount of Spanish, some Mayan, Garífuna and also Chinese. Try as I might, I could only understand bits and pieces of Creole. A few new buds seemed tickled to hear my version of a Creole song I learned many years ago in Jamaica ...or were they laughing at me? They claimed to understand it perfectly. All Belizeans can communicate in Creole, whatever their first language might be. When children go to kindergarten, they begin to learn English; because newspapers, magazines, TV and radio are in English, I suppose it might be easier to pick up. Children told me, however, that they always speak Creole at recess and lunchtime. Speaking of children, I happened on a class of fourth graders in the national museum who graciously sang the national anthem for me. Their teachers were somewhat taken aback by the request, but very kindly okayed it. The adorable kids sang impressively well. I wish I'd been able to take a photo, but cameras weren't allowed in the museum.


In the early 1800s, after fighting for centuries, the British finally wrested present-day Belize from Spain and from Guatemala (which, as the only landlocked country in Central America, desperately needed an ocean port) and named it British Honduras. The earliest English settlers were pirates who stole longboats from their ships and made their way to the coast. The waters off Belize are so shallow that bigger ships couldn't pursue them. (Though there are various theories as to how the country came to be named Belize, the one that makes most sense to me is that the Mayan word for muddy, shallow waters is "be'lix".) It was fun to learn that there were at least four daring female pirates who played a role in the country's early history. The pirates survived and prospered, living on corn, fish and abundant tropical fruit. They soon turned to the lucrative business of harvesting mahogany which became the principal industry for them and the other English settlers who followed. Nowadays, with the majority of the largely unprotected mahogany stands decimated, the main exports are citrus fruits, sugar and sugar cane (my seatmate from Houston was a rum distiller) and bananas. The British finally granted independence to Belize in 1981.


Belizeans are multi-cultural, and paint a picture of complete racial harmony, though they are very race conscious, able to distinguish quickly just what mixture their countrymen comprise. The vast majority are very dark skinned or black. Speaking to Belizeans who befriended me, I learned, not surprisingly, that the whiter the better, as in the entire world. The official racial distinctions Belizeans make are: Mestizo--a heritage combining Mayan and Spanish blood; Creole--a mixture of African and English blood--of whatever percentage of each; Mayan; and Garífuna, those whose ancestors were the native peoples of the Caribbean Islands, who mixed with the African slaves shipped to the islands in increasing numbers as the indigenous people died from European diseases and abuse. (A Garífuna woman told me, "You know, we weren't always this black.") In addition, there are the descendents of Chinese and East Indian indentured servants brought to Belize by the English after slavery there was outlawed. The Chinese, most of whom are prosperous, tend to marry among themselves. In the last twenty years, many Central Americans as well as Nigerians have migrated to the country. So Belize is a melting pot, the ingredients of which have resulted in rich brown plat du jour.


Belize is struggling economically. The educational system is inadequate. Unemployment, crime, and drugs are problems. Lots of young people, seeing little chance for success, have decided robbery is the fast track to the clothes and electronics they see on line and in ads. Others have fled to the U.S., especially to Los Angeles, where, with English and dark skin, they become "invisible" to la migra. One woman told me that there are four or five times more Belizeans living in the States than in Belize! Cruise ships are very important to the economy, though they don't visit daily and don't come year 'round. Some passengers opt for tours to the ruins, it's true, but many of the cruise ship people don't get any further than the Tourist Village, where luxury shops sell high-end clothing, electronics, jewelry and, of course T-shirts ("You'd Better Belize It" is a very popular logo) so cruisers can show they've been to Belize between buffets. The Village is accessible only to the cruisers themselves and those like me who were willing to be fingerprinted and to leave a passport or other identification in a secure office before entering. I have to wonder how much of the tax revenue from sales generated in the Village trickles down.


Belize holds good adventures for divers, for birders, for those who are interested in language and cultural differences, and for Mayan civilization buffs. A real challenge for someone who's not part of an organized tour or group is transportation. Driving isn't a good option. There are few rental cars, and even if you find one, the cost of renting is very high. Gas costs almost $5.50 US per gallon. Belize has exactly four two-lane paved roads. I was perfectly content to travel on the 1950s school buses which ply those few paved roads, but the schedules were unpredictable, and one had to go far inland to the capital, Belmopan, in order to head south. Even straight shots on the bus involved uncertainty and tests. As a consequence I didn't see southern Belize at all. What I missed were some parts of the coast being developed by wealthy Americans, Canadians and Europeans in the Placencia area, the Garífuna settlements and the Blue Hole, the entrance to an Ice Age cave which is more than 1,000 feet across and some 400 feet deep. I had no desire to see fancy resorts, and consoled myself with the knowledge of the Garífuna culture I acquired when I visited Honduras and Nicaragua. I really wish, however, I'd gotten to the Blue Hole, but in the time I had, I just couldn't work out public transportation which involved going west southwest to Belmopan then doubling back east before going south.


My favorite part of the trip was visiting three Mayan sites whose names I hadn't heard before planning this trip. In each case, I was selfishly thrilled that there were very few tourists around. We reached the first site, Lamanai, via a 25 mile boat ride on the New River which took us through forests populated by exotic birds, a few crocodiles, spider and howler monkeys, and wonderful plants. We even saw two Jaribu Storks, now facing extinction, the largest flying birds in the Americas with a wing span of 8 feet. I say "we" because I went with two guys "of an age" from Colorado who were whiling away a day before their deep sea fishing trip began. Both had been leaving wives behind for years for their annual fishing expeditions in many parts of the world. One was simpatico, the other not, but at least he was interesting for the fact that he belongs to a group whose goal is to visit as many countries in the world as possible. While the U.N. and many governments consider that there are "only" 195 countries, these guys count over 300 because they use different criteria when defining "country". For example, for them the former Soviet Union was always made up of 15 separate and distinct countries. Like birders who have their bird lists and want to check off as many species as possible, these folk collect countries, and count even the briefest visit as a country "collected."


Archeologists believe the Maya began to build Lamanai early in the 16th Century B.C., but it gained power and prominence in the five centuries that spanned the 4th Century B.C. until the 1st Century A.D. When the Spanish arrived in the later 1500s, they tried to build two Roman Catholic churches on the Lamanai site, but were driven out by irate Maya, I'm happy to report. I visited the other two Mayan cities on my own. The first was Altun Ha, small and unique in that it lacks three fundamental markers of Mayan cities: a ball court, signs of human sacrifice and stelae. And finally, my favorite, Xunantunich (Shoe nahn toon EECH), very close to the Guatemalan border, a magical site with Belize's highest Mayan temple, called El Castillo/the castle. El Castillo was so majestic and promised such gorgeous views from the top that I broke my vow not to climb ruins on this trip. It was a silly decision, because I messed up a knee which is only now nearing normal. I had hoped to get to El Pilar, a site being excavated by my university, but tales of Guatemalan banditos and a long, difficult hike discouraged me.


Even though I'm not a diver, I knew a trip to Belize wouldn't be complete without visiting the cayes/cayos/keys--small islands between the mainland and the 175 mile barrier reef that fronts the country's coast. I went to both Caye Caulker and Ambergris Caye, and I have to say that what I enjoyed most was the water taxi ride there and back to Belize City. On one leg of the two trips to the cayes, the captain let me ride above in the cockpit with him which I loved. The views of the turquoise Caribbean were spectacular. There was very little to see on the cayes themselves, and prices were extremely high for everything. In my next life I'll be a diver. I'll also be able to explain the difference between a caye, a key and an island.


Among the Belizeans I met, Lincoln Webster will linger in my memory. A lanky, outgoing, sociable, forty-something taxi driver who kind of adopted me, Lincoln seemed to know everyone, and was a treasure trove of information about all things Belizean. He tried his best to help me distinguish among the ethnic groups, proclaiming all the while he had friends in every group, which I don't doubt. "Look! Look at her cheek bones! Don't you see?" I never did. Without an appointment, Lincoln got me in to see a Taiwanese immigrant who gave me acupuncture for my knee, general massage and chiropractic work for whatever else his hands had decided ailed me. The good 'doc' hardly speaks English but hosts a popular TV show with the help of a translator. His small home/office was covered with the word "PAIN" in blood red ten inch letters. A unique experience in every way.





This page has been visited times since March 8, 2011.
---
| Top of page | Main index | Search | What's new |

The Pacific Coast of Mexico

www.tomzap.com

Tom Penick:&nbsp tom@tomzap.com