Christmas season begins December 16. The calenda of la Virgin de Soledád (Oaxaca's patron saint) takes place around the zócalo. This calenda is filled with cultural and religious expressions of the indigenous people from the seven regions of Oaxaca. There is a solemn procession and then the famous and colorful Danza de la Pluma is performed outside the Basilica de la Soledad. December 16 also marks beginning of the nine days of posadas.

December 17 brings fireworks in front of Soledad Basilica.

December 18 celebrates the Virgin of la Soledad (Virgin of Solitude), the patron saint of Oaxaca. The celebration includes mañanitas, rosary at dawn, convite, calenda, religious activities, carnival, regional dances, food fair, street fair, music, and fireworks. Music and fireworks begin at 4:00 AM; at 6:00 AM is the Promenade to the markets 20 de Noviembre, Benito Juárez and IV Centenario and to the zócalo. Activities continue throughout the day, including visits to the padrino's house and a return to the church at 1:00 or 2:00 AM.

December 23 is the Noche de Rábanos (Night of the Radishes). Takes place in the main zócalo. The celebration dates from colonial times and features figures crafted from parts of the radish plant.

December 24 The ninth Posada. Groups from all over Oaxaca gather in the zócalo to celebrate the arrival of Christmas night. Before arriving at the zócalo, each posada will proceed to the home of the madrina (god-mother) who will provide a statue of the child Jesus for the local parish's nativity scene. After a parade around the zócalo and through Oaxaca, celebrants return to their churches to prepare for the 'Misa de Gallo' (mass of the rooster), the first worship celebration of the Christmas feast.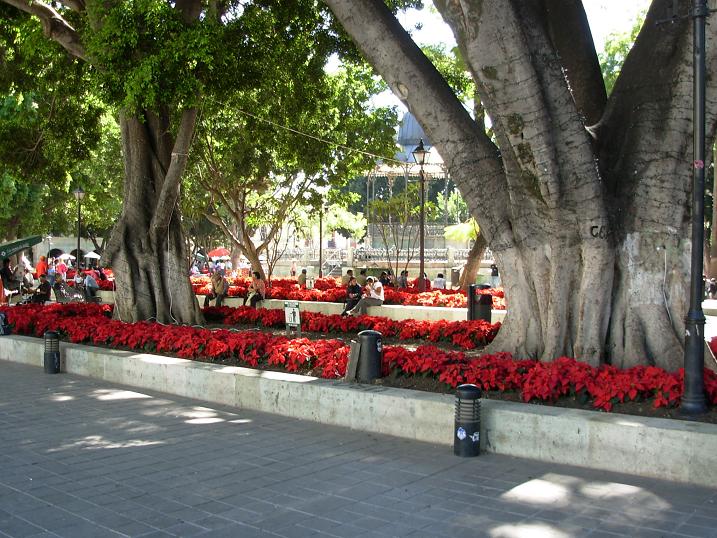 Pre-Christmas decorations in the zócalo
photos by Michele M.