Home >> Oaxaca >> Huatulco >> Oaxacan Wood Carvings
Oaxacan Wood Carvings
or Alebrijes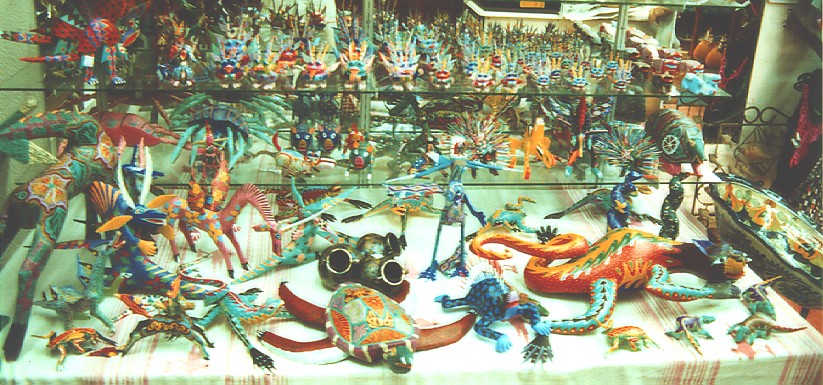 Oaxacan wood carvings for sale at one of the shops at the plaza in La Crucecita.

These carvings or Alebrijes, made from the wood of the copal tree, are hand carved and brightly painted by Oaxacan artisans. You can find Oaxacan wood carvings at several shops in Huatulco, Oaxaca, at numerous shops in Oaxaca, Oaxaca, as well as all over Mexico. One of the shops in Huatulco is:
Mary Jose
(9)587-1567
Plumbago no. 1603
La Crucecita, Bahías de Huatulco
Oaxaca, Mexico CP 70989
See more photos.
Many of these carvings are produced in the town of Tilcajete, Oaxaca
| Top of page | Main index | Search | What's new |
---
The Pacific Coast of Mexico

www.tomzap.com

Tom Penick:&nbsp tom@tomzap.com