Home >> Oaxaca >> Oaxaca, Oaxaca >> Casa de Cortés
Casa de Cortés

an Article by Richard D. Perry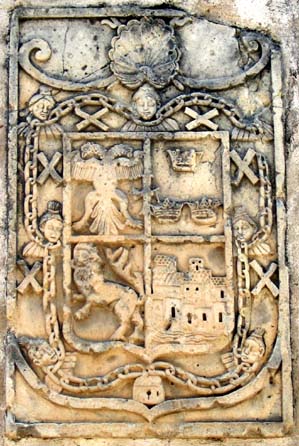 Coat of arms
Hernán Cortés
Hernán Cortés, the Spanish conqueror of Mexico has many monuments. As Lord of the Marquesado, the estate granted to him by the Spanish Crown, he established señorial residences across this vast tract that stretched from Mexico City to Oaxaca. The palace in the heart of Cuernavaca, is probably his best known.

Powerful though he was, however, Cortés was unable to extend his domain into present day city of Oaxaca, although a mansion there bears his name. The town of Cuilapan, located just beyond the eastern city limits and famous for its rambling Dominican priory, became one of his favorite outposts. Sections remain of an imposing early colonial structure facing the main plaza there. Still known locally as the Casa de Cortés, it is reliably believed to be an authentic residence of the conquistador.

The Arms of Cortés
The restored arcade is noted for its richly sculpted detail. In addition to ornamental windows and doorways, these carvings include two heraldic plaques of great interest.

The first (below left) which projects above the arcade, displays the conventional Spanish royal arms depicting lions and castles beneath an ornate crown.

A second, larger plaque (above) emblazoned on the inner wall, is more complex. It is thought to represent the aristocratic coat of arms granted to Cortés by Charles V of Spain.

In the center escutcheon the two-headed imperial eagle of the Hapsburgs and the royal lion on the left are quartered with a relief of Tenochtitlan, the ancient Aztec island capital, and three crowns representing the Aztec kings Montezuma, Cuauhtemoc and Cuitlahuac. The chained heads of captives surrounding the inner shield are thought to symbolize the vanquished native lords of the lakeside cities around Tenochtitlan.

If this relief in fact dates from the time of Cortés, it is a unique historic and artistic monument, and represents one of the earliest and most detailed sculptures from the early colonial era.
| | | |
| --- | --- | --- |
| The Spanish royal arms | La Casa de Cortés, main arcade | La Casa de Cortés, mullioned window |
---
SOURCES & LINKS

Text and pictures ©2006 Richard D. Perry. All rights reserved.
For more information on Cuilapan and the colonial churches and monasteries of Oaxaca, consult the guidebook Exploring Colonial Oaxaca
Reproduced with permission from www.colonial-mexico.com
---
This page has been visited times since August 18, 2007.

| Top of page | Main index | Search | What's new |

The Pacific Coast of Mexico

www.tomzap.com

Tom Penick: tom@tomzap.com