Home >> Oaxaca >> Puerto Escondido >> Aldo Marino Ciardiello
In Memoriam

Aldo Marino Ciardiello: Sculptor, Painter, Set Designer

June 4, 1954—April 29, 2010
Biographical notes:
Noted local artist, Aldo Ciardiello, was born in Imperia, Italy and grew up in Milan . He was educated at Milan 's School of Fine Arts.
Memorial Service:
On August 15, 2010, Sabina Dick, the owner of La Galería Restaurant in the Adoquín in Puerto Escondido, Oaxaca held a memorial service for Aldo Marino Ciardiella, her colleague and companion of many years, who left various works of art in Puerto Escondido and in the City of Oaxaca.
---
In 1981, during a trip through Mexico, Aldo Ciardiello spent time at the beaches of Puerto Escondido, Oaxaca, and fell in love with them. Here he met a German traveler, Sabina Dick, who was en route to Guatemala. Sometime later, the two met again in Berlin. Reminiscing about the beauty of Puerto Escondido and the state of Oaxaca, they began to plan how they might return to live here—he as a sculptor and painter and she as an architect.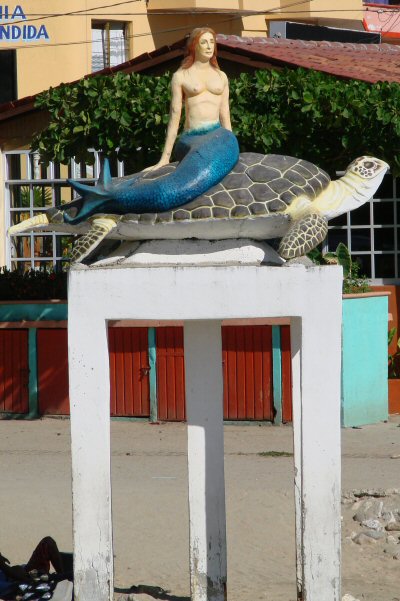 sculpture "La Sirena Sobre Tortuga" (The Mermaid Seated on a Turtle) located on Playa Principal
When she found that practicing architecture in Mexico would be extremely difficult, Sabina decided to follow her other passion, that of cuisine and restaurateur. She and Mr. Ciardiello opened their first restaurant, "El Nautilius", which, in a short period of time gained fame among locals and tourists alike. Aldo, aside from helping in the restaurant, opened an art studio called "La Gallería". As time passed, La Galería became a combination art gallery and restaurant specializing in Italian dishes.
Over the years, Aldo painted and created wood and stone sculptures. His works caught the attention of the community of art patrons and artists in the state of Oaxaca and other Mexican states. In 1990 Aldo exhibited his work in La Fiesta de La Cantera in the City of Oaxaca. That year he also did the set design for the Donaji pageant which precedes the Guelaguetza. Based on his considerable talent, in 1992, La Casa de La Cultura de Oaxaca commissioned a stone sculpture for Puerto Escondido. As a tribute to the our surfers and the famous waves that attract them, Aldo created a large sculpture called "La Ola" (The Wave) which was installed on Zicatela Beach. The stone surfer attracts attention from all who pass who appreciate the work without knowing anything of its creator. Before his untimely death, Aldo had wanted to repair the surfer's damaged hands but could convince no one of the importance of the need to maintain public art.
In Puerto Escondido, Mr. Ciardiello's first art exhibition took place in the Da'Hugo restaurant. In August, 1992 an exhibition at La Galería had great success. In 1996, with 2300 other artists, Aldo participated in an important exhibition, "La Ruta del Destino, El Mitote" along Mexico City's famous main avenue, La Calle del Paseo de la Reforma. In 1999, his friend, noted Mexican television personality, Oscar Cadena, invited Mr. Ciardiello to show his work at a Mexico City gallery. Afterwards, he stayed in the capital to conduct a workshop on set design, a skill he had developed in Italian theaters and a discotheque in Germany.
In 2004, the government of Oaxaca commissioned Aldo to create another stone sculpture for Puerto Escondido, one that would stand on the new pier that was under construction at the time. The pier was never completed, but the sculpture, "La Sirena Sobre Tortuga" (The Mermaid Seated on a Turtle) was set "provisionally" in the area in front of the proposed pier. The pier project was abandoned, but the mermaid keeps watch. Sadly, Mr. Ciardiello was never recognized for his work. An enduring concern for him was that the "temporary" cement base on which the mermaid sits detracts from the work.
Aldo Ciardiello died young, leaving artistic footprints here in his beloved Puerto Escondido. May he rest in peace.
| Top of page | Main index | Search | What's new |
---
The Pacific Coast of Mexico

www.tomzap.com

Tom Penick:&nbsp tom@tomzap.com