Home >> Main Index >> Costa Rica Corner
Costa Rica Facts

Area: 19,730 square miles
Elevation: Sea level to 12,529 feet
Population: 4,075,261 (2006)
Capital: San José
Currency: Colón (US$1 is about 500 Col&oacutens)
Per Capita Income: US$10,100
Religion: 76% Catholic, 14% Evangelical
Language: Spanish
Radio Stations: 65 AM, 51 FM (2002)
Television Stations: 20 (2002)
Railways: 278 km
Paved Highways: 35,303 km (2004)
Airports: 149 (2004)
Telephone Country Code: 506
Wildlife: monkey, sloth, crocodile, lizard, poison-dart frogs, jungle birds, butterflies.
Costa Rico Corner is here to offer information, pictures, events in Costa Rica, travel tips and locations and reservations, and retirement homes and property in Costa Rica. Information is supplied by Jay Lindley, a Costa Rica resident.

Bienvenido a Costa Rica. Costa Rica is a small diverse country about 9 degrees above the Equator. It has an Atlantic Coast with warm torquoise blue clear waters on the Caribbean Sea and a Pacific Coast with many beaches for all types of travellers and tourists. You can come to Costa Rica and spend over $100 per day per person or you can vacation modestly for under $40 per day per person. There are "Gringo" beaches and resorts that are quite pricey; and there are some disappearing quaint areas with few tourist trappings which appeal to Spanish-speaking seasoned travellers.

San José: GPS: 9°56'N 84°5'W. San José is the capital of Costa Rica and is located in the center of the country on a mountain plateau at 3839' elevation. It is a large international metropolitan city with the obvious facade of a large Latin American city. The population of San José, barrios and small suburbs is 1.5 million. The altitude of San José is just under 3000 feet. The climate in San José is pleasant year around. The average daytime temperature during the dry season is aout 82°F, and the night tempurature is about 65°F. During the rainy season stretching from May thru December, the average daytime tempurature is 75°F and just below 60°F at night. If you come during the rainy season ( winter, what a joke) bring a light rain-resistant jacket and an umbrella and a couple of sweaters.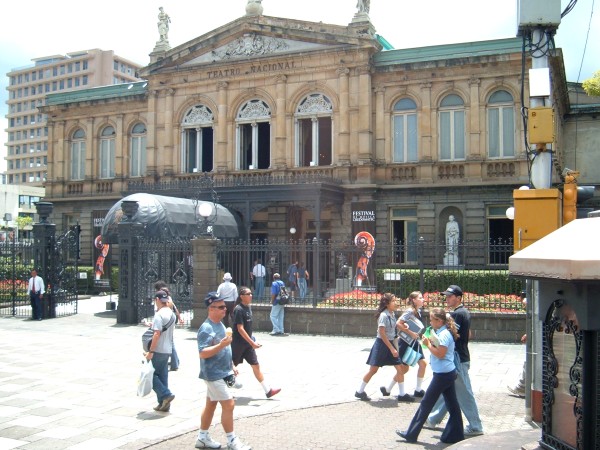 Teotro Nacional in downtown San José

Centro San José: In downtown San José there is a large plaza at the end of Paseo Colon one block East of Avenida Secundo. There are stores and shops with all you can imagine and all you forgot. The prices on the plaza are similar to prices in the "Global Economy" In Tico español "Muy Cada." In the centro there is also a mercado which covers one city block. The mercado houses everything from fresh fruit and vegetables, meats and fish to souvenirs, necessities and sodas (cafes). The mercado is open 6 days Monday - Friday from 7am - 6pm.

The walking plaza that stretches from the market about 8 blocks thru the center of downtown San José is an excellent people-watching area. There are also many gringos hanging out in the plaza all the time. The National Theater is on Ave. 2nd, between the walking plaza and Ave 2nd. Many cultural events and concerts are held here year around. In the near future events will be listed. East of the National Theater under the Plaza is the Museo de Oro with a huge exhibit of pre-colombian art and artefacts. Two blocks East of the Museo and two blocks North are a cluster of galleries and touristy shops .

San José Diversiones: Centro San José and nearby areas are vice-paradise (pair-o-dice). Gambling, prostitution, and Cuban cigars are legal and regulated here. If you need to know more...

Escazú: Escazú is a suburb southwest of San José and short bus ride from San José. The city is very similar to Austin, Miami or your favorite middle-uppermiddle class city in California. Mercedes and Beamers fill the streets and many/most of the signs are in English. There is a plethora of expensive restuarants, clubs and bars botiques and shops for the well-to-do. If you wish to stay in Escazú you will spend $200 per day per couple or more to fully enjoy what the city has to offer. There are clubs with live music most weekend nights. Rooms generally start at $60 per night per couple and restuarants cost $8-$40 per meal plus drinks. There are many world class restuarants in Escazú. If you are in a rental car, take the pista South of Sabana Park past the park to Escazú.

Parque Sabana: Parque Sabana is a large, 10-hectare (about 25 acres), park at the West end of Paseo Colon., where the pista ends near downtown San José. There is the National Art Museum, the National Soccer Stadium, tennis courts, basketball courts, volleyball courts, soccer fields, ponds and sculptures, tall trees and open areas. It is a ideal place for an afternoon walk with the family, or a place to jog, or play sports.

Barrio San Pedro: Barrio San Pedro is about 2 miles East of Centro San José. There is a large elegant mall (Mall San Pedro), which compares to any nice exclusive mall in the states. At the top of the mall is a club called Planet Mall which has special live music events.

Across the Avenue from Mall San Pedro on the South side is a cluster of night clubs with a variety of CDJ music from reggae to disco to reggeton. This area is fairly secure with plenty of security guards, but don't wander far from the clubs.

Monte de Oca: One klick East of Mall San Pedro is Monte de Oca on the South side of the University of Costa Rica. There are many clubs and restuarants in this area. It is a good attraction for the younger tourist (under 35). Food and drink here are nore moderately priced than Escazu´or on the Avenue leading to Monte de Oca. Monte de Oca is just North of the Avenue that passes in front of Mall San Pedro. It is the college kids' hangout.

Alajuela: Alajuela is West Northwest of San José on the pista. Alajuela is 2 km North of Juan Santamaria International Airport. the population is about 750,000. It is the provincial capital of Alajuela. It is a blue collar bedroom community. There is very little industry. Most people work in shops and stores in Alajueala or commute to surrounding factories on the pista or commute to San José to work. Central Alajuela and the mercado centro have many sodas (cafes) for a good quick cheap meal. A casada (marriage) will cost 1200-1600 colonies ($2.50-$3.25) this usually includes a choice of meats: beef, porkchop, chicken in salsa, or fish (bifstek, chuleta, pollo en salsa, o pescado). To accompany the meat selection you get rice beans, a simple small salad, one other starch, and fried banana (plantano maduro), and fresh fruit drink (fresquto) may or may not be included in the price. After 3pm you will be hard pressed to get a meal in the centro Alajuela area. I´m afraid you are limitted to chicken sodas (fried or rotissery) and a poor choice of sides. There are a couple of pizzarias and one or two more expensive restuarants in or near downtown and yes, there in the center of Alajuela, dare I mention, is a Micky Dee's with all the fat, sugar and salt you get around the world. A real true beef hamburger does not exist in Costa Rica, so don't ask, and wait till you get back home.

All the central Alajuela sitting parks have been remodelled except Parque Juan Santamaria, which is under consturction. Parque centro or Parque Iglesia, and Parque San Rafael and Parque Cementerio are shaded and a nice place to cool down if you´ve been walking in the sun.

The main bus terminal for Alajuela is 3 bocks West of the central park from the Southwest corner and 1 block South. The terminal for T.U.A.S.S.A. busses to San José is 1 block North ot the main terminal. Busses leave the main terminal for destinations all over Alajueala Province, and many other locations in neighboring provinces of Heredia and San José. 5 blocks South of downtown at a place called La Radial busses leave for most beaches on the West Coast.

For a half day trip in Alajuela take the la Guarita bus to Zoo Avi (the bird and exotic animal zoo) northwest of Alajuela central in Barrio La Guarita. It is a beautiful garden park with a wide range of animals and bird from Costa Rica.

3 blocks west of downtown and 3 blocks South of the cemetary is La Feria. This is a large outdoor farmers market with a large varity of cheap fresh exotic fruits and vegetables. It is the best La Feria in Costa Rica. It is open Friday from 2:30-8p and Saturday from 6a-2:30p. Usually there is a dance with live music in the evening after the market closes in the beer garden above the market.

Soccer fans and families can enjoy a soccer game in the LIGA Stadium in the Northeast corner of Calle Ancha. It is a cheap family friendly diversion. Costa Rica is soccer crazy, so there are soccer games almost year around.

Parque Ojo del Agua is a large park with 2 swimming pools, tennis courts, soccer fields (of course), a restaurant, bathhouses to change, and picnic areas. Warning: the water is cold. It makes Barton Springs (Austin, Texas) seem warm. Ojo del Augua is a short bus ride on the other side of the International airport. It is a beautiful park.

Volcan Poas Poas Volcano is a natural beauty with coffee farms, rain forests, and cloud forests surrounding it. There are several busses passing to different areas of the Volcano. You can take the Frijanes bus from central Alajuela, or you can take the Cariblanca bus from Santa Barbara thru Carrizal and through La Paz for a breathtaking bus ride and view. Tours and hotels and restaurants are all around.
---
| Top of page |