Home >> Oaxaca >> Huatulco >> Hotels >> Dreams Huatulco Resort and Spa
Dreams Huatulco Resort and Spa

(formerly Gala Resort and before that Royal Maeva)
958-10000, 958-10220 fax
Tangolunda Bay, Blvd. Benito Juárez 227
Bahías de Huatulco

The sign says Royal Maeva and that's how this hotel started out. This hotel is located in the middle of the upscale Tangolunda area, next to the Barcelo. The Maeva then became the Hotel Gala and in 2008 became the Dreams Huatulco Resort and Spa. The hotel has been popular through all of these changes.

All inclusive, tennis, water sports, lots of activities, night life, recommended.

See a Wedding at the Gala.

See more photos.

View from room.
Barcelo at right.

photo submitted by Richard Rogers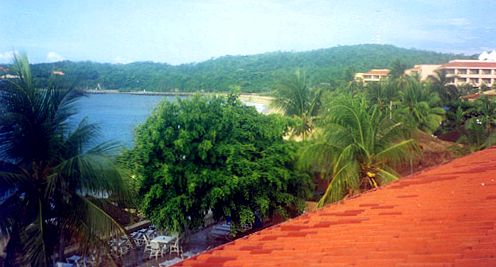 Visitors' Comments
Send your comments to tom@tomzap.com

---

We just came back from Huatulco and it was superb, we stay at the Dreams and the food and service was excellent. Would I say there again, yes in a heartbeat, because of the whole experience, I would not think of anywhere else to stay? Thanks.

Jacques & Shannon B.
Calgary, AB, Canada
4/13/10

Just came back from a week at Dreams. Very different. Food was good and plenty. The rooms were nice..ours was VERY nice. Five pools plus another one they call the childrens pool but is also a regular one. Service was excellent. No chair hogs. Plenty of pool chairs available, thank goodness. Weather was marvelous. The only drawback was the decor. Very plain and modern. Nice, but I liked the Mexican decor more. You could pick Dreams up and put it in my city and call it Holiday Inn. I miss the Gala. Next time I will investigate other hotels in the area. I do like the Omni. No parasailing that week. Did stop in to see Hurricane divers and said Hi. Heard from several others about how great Victor was in the boating tours. We didn't go 'cause my son got quite sunburnt. Did visit Santa Cruz and (pardon the spelling) La Cruzicita. Love those towns. A friend came down to visit the condo she bought 4 yrs ago and was quite disappointed at the results so far. Anyways I just thought I'd write a little to tell you all what a GREAT time we had. From Sonia and (son) Dave from Racine WI.

Sonyone
2/6/09
---
| Top of page | Main index | Search | What's new |