Home >> Oaxaca >> Chacalapa >> Rancho el Riego; Balneario el Paraiso
Rancho el Riego;
Balneario el Paraiso
Chacalapa, Oaxaca
Rancho el Riego is located 20 minutes north of Pochutla, just to the east of Chacalapa. Just take highway 175 north from Pochutla to San José Chacalapa and turn right at the basketball court in town (GPS 15°49.743'N 96°08.330'W). Drive across the basketball court and take the first right then the next left. Proceed down the most traveled dirt road (water trucks travel this road). It's only a mile from Chacalapa to El Paraiso (GPS 15°50.090'N 96°27.073'W). Ask for directions along the way if you are not sure. It's just past Rancho Alegre .
They offer a restaurant, swimming pool, and lodging in a remote, jungle setting. Prices are reasonable. The restaurant offers good food and delicious tropical beverages. The pool, which is spring fed, is open Friday through Monday. It is drained, cleaned and refilled once a week. El Paraiso used to supply some of the purified water used in the area. They filtered and bottled the water from their spring. They have a few clean rooms with ceiling fans that rent for 80 pesos or about $11 U.S. (7/97).
In an area where pure water comes in bottles, swimming pools are located at sources of clean spring water and places like this dot the landscape. I believe I saw a Balneario sign on the way to Santa María Huatulco. They are popular with Mexican families. It's a good place to relax, cool off, and experience the Mexican culture.
They've added another pool and some slides since I was there last. (3/02)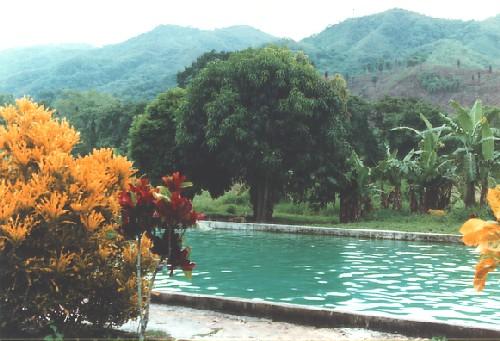 | Top of page | Main index | Search | What's new |
---
The Pacific Coast of Mexico

www.tomzap.com

Tom Penick:&nbsp tom@tomzap.com