Home >> Oaxaca >> Oaxaca, Oaxaca >> A Non-hunterís Tale of Rabbit Hunting in Oaxaca, Mexico
A Non-hunterís Tale of Rabbit Hunting in Oaxaca, Mexico

by Alvin Starkman of Casa Machaya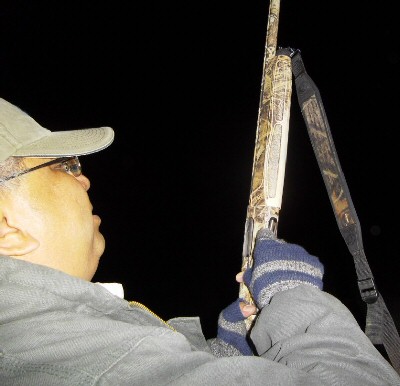 Rabbit hunting in Mexico

Standing in the back of a '92 Dodge Ram pickup with a 22 rifle in hand at 1:30 a.m., in fields of agave and alfalfa somewhere outside the city of Oaxaca, was something I could not have imagined while growing up as a middle class resident of Toronto. But there I was, rabbit hunting in south central Mexico with Luis, Arturo, Don Victor and two of their local helpers.

Oh yes, I had in fact owned a 22 and a 30-06 (both inherited from my father) and a 16 gauge shotgun (purchased for $25 at a rural Ontario auction), but they were carefully stowed away at home until I sold them before moving to Oaxaca back in 2004. I'd once gone out into the bush with a friend to see if I had it in me, but that was about it; that is until Luis, co-owner of popular Oaxacan restaurant La Olla, asked if I'd be interested in going rabbit hunting with him and his buddies some night.

"You'd better dress really warm, with lots of layers and a cap and gloves, because it gets really cold out there in the middle of the night," Luis had warned earlier in the day. And he was right. When I arrived home at 3:30 a.m. the next morning, I was still shivering despite heeding his sound advice. But with three rabbits in the bag, and new-found friendships emblazoned through hunting, munching on snacks and a bit of imbibing, all under the moonlit otherwise pitch black sky in the middle of Mexico's nowhere, it was all worthwhile.

I drive to Luis' where we await Arturo. At about 9:20 p.m. the three of us squeeze into the cab of Arturo's Dodge after putting food, soft drinks and just enough mezcal to keep us warm, into a cooler in the rear. The back of the eight cylinder gas guzzler is equipped with a power source for illuminating two hand-held high voltage lamps, an open box for resting firearms, and a two-by-eight plank extending across its width for sitting on or leaning against.

By about 10 p.m. we're in the city of Tlacolula to pick up Don Victor, a stocky 60s-ish game hunter who knows the ropes better than the others. He's already planned a 2013 trip to British Columbia for bear hunting. "You buy your tag for about $2,000, and the outfitters take care of the rest," he explains. For us, he's the leader of the pack. He shows us his file with permits in place, retrieves ammo, unlocks two 22s and a 16 gauge, then puts on his thermals, vest, parka and woolen Andes headgear with ear flaps. I think we're all set for the hunt.

However we still need to collect his two comrades, Chacho and Julio, one to drive and the other to ride shotgun. Born and raised in Tlacolula district, each knows the area's back roads and countryside like I used to know the rock shoals of Lake Simcoe. We honk out front of their homes, located in two nearby villages, and finally head out. It's about 11 p.m. Chinga this and pinche that, now these two guys know how to get us riled up and laughing with their guttural, songlike Spanish intonation rife with double entendre.

Chacho drives while Julio rides in back with the four of us. His job is holder of one of the lamps, and to shout out as soon as he sees movement in the brush. It's 11:30 p.m., and I'm already colder than I thought I would ever get. A second scarf goes around my neck. Over the course of the next couple of hours it would gradually work its way over my chin, then mouth, and finally onto the bridge of my nose. Surely Luis had been exaggerating, I had earlier thought, with his southern Mexico blood ready to curdle at a first encounter with cool discomfort.

We first head out onto deeply potholed dirt roads winding between fields of alfalfa being cultivated for cattle fodder, agave grown for mezcal production, and corn for mainly making tortillas, the Mexican staple at least in this part of the country. "What's going on; don't tell me they haven't left any for us," Don Victor exclaims, only ten minutes after he and Julio had begun to shine the powerful lights deep into the fields.

Don Victor instructs Chacho to turn off and drive between the furrows containing maguey, the local term for agave. I thought it was bumpy before, but now we're tracking over hardened plowed troughs of earth. Thankfully Luis and Arturo know to keep the barrels of their guns up in the air or pointed directly out into the fields. If there's one thing I do know, it's that. In southern Mexico it's rare for anyone to take lessons or a course to learn how to do anything.

Bang! With the first discharge of the hunt Arturo strikes one. Julio scurries out of the truck to retrieve the rabbit. It's been hit in the rear quarter and is still wiggling to free itself from Julio's grasp, so he gives it a swift rap to the head to finish it off. It's small, yet nevertheless a keeper. It's not like regulations governing the catch of smallmouth bass in Canada and the US.

We continue on, as the temperature continues to drop. Now, despite my thermal socks and steel-less toe Greb Kodiak boots, it's my feet. We continue on between the agave circos, as they're known, then turn off onto another roadway, and then onto a pathway of trampled tall grasses. With a 16 gauge Luis bags a much bigger hare than the first, which he had glimpsed hopping through the alfalfa. Three of us had spotted four at about the same time on both sides of the truck, but only Luis hit his target. The lamps go out. Someone checks under the hood and learns that a cable had either burnt up or fallen down into the engine. "We'll just have to get out my tools," reasons Arturo. He asks me to open up a zippered canvas bag resting alongside one of the 22s, and pass him pliers and electric tape. Ten minutes later we're on the road again.

It's now approaching 2 a.m., and with not much action talk soon turns to tortas, given that Luis had earlier been telling us how the crusty rolled sandwiches had been made with avocado and tomato, melted American and Oaxacan string cheese (quesillo), chicken and bacon.

Twice we spot something moving, but they're only skunks or possums. We quickly conclude that it must be time for a middle-of-the-night feast. Enough is enough. We stop in the middle of some patch of something, somewhere, jump down onto terra firma, and indulge. Don Victor's talk of tall tales of bigger hunts enthralls. Chacho and Julio keep us in stitches.

"Let's just get one more rabbit before we head home," Luis suggests. Bellies fuller and bodies warmer, and little more jovial all round, we hop back into the truck and head out. It takes two shots for Luis to bag his second, not all that impressive given that he's been using a shotgun all along; but whatever, it still brings up the number.

I think we're heading back to civilization, but I don't see any street lamps or house lights, in any direction, and wonder how Chacho knows where to go. I then recall being out alone on the lake in rural Ontario in my 12' aluminum fishing boat with 9.9 Mercury motor more than 40 years ago, in similar circumstances, not seeing a shoreline, yet knowing how to get home, instinct if you will. I can't imagine how many times Chacho has traversed the same fields. I realize that he knows Tlacolula like I used to know my own proving grounds on Lake Simcoe. It didn't matter how dark or how foggy, or how far off shore, I always made my way back.

And so we deliver Chacho and Julio back to their abodes, and then unload the guns and other sundry equipment at Don Victor's before hitting the highway for Oaxaca. It feels good to be in the truck's cab once again, defrosting. Luis sleeps while Arturo and I talk about life.

The three rabbits are now safe in Luis' freezer. His spouse, Chef Pilar Cabrera, will hopefully prepare them next week. She's promised that my wife and I will be invited to partake.

For my part, throughout the entire expedition I just stood there in the back of the truck between Luis and Arturo. They're the much better marksmen. I didn't get a shot off. Maybe next time.
---
Alvin Starkman operates Casa Machaya Oaxaca Bed & Breakfast with his wife Arlene and Oaxaca Culinary Tours (http://www.oaxacaculinarytours.com) with Chef Pilar Cabrera. Alvin takes travelers to Oaxaca to visit many of the central valley sites. He can sometimes be convinced to take hunters out on nighttime rabbit hunting excursions with Luis, Arturo, Don Victor and the boys.

This page has been visited times since June 20, 2013.
| Top of page | Main index | Search | What's new |
---
The Pacific Coast of Mexico

www.tomzap.com

Tom Penick:&nbsp tom@tomzap.com