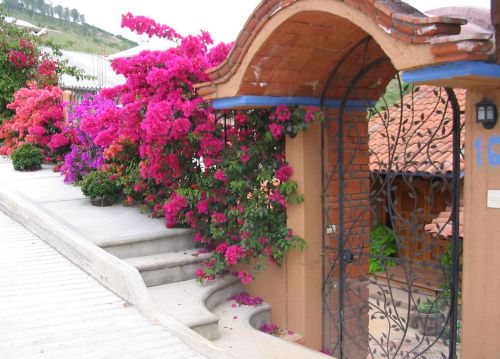 Casa Machaya, street entrance - More Photos
Extremely spacious rental unit
Accommodates two couples or a family
Airport transportation assistance
Spectacular vistas
Secure parking
Private entrance
Snacks and beverages upon arrival
Breakfast supplied for your own kitchen
Daily morning transportation to downtown
Wi-Fi internet
Laundry facilities available
Tour guide services at competitive rates
Cooking classes arranged
Advice for Spanish language classes
Crib and accessories for travelers with infant
Small second bedroom with bunk beds for families with young children
Second independent rental unit with private washroom if traveling with a second couple or adult children
Description
Casa Machaya Oaxaca Bed & Breakfast is unique in that it offers its guests an entire level of a beautiful home built into the side of a cliff in the Sierra Madre del Sur, yet only 10 minutes from the heart of downtown Oaxaca, the zócalo. You will enjoy the vistas of a magnificent mountain setting in a traditional Mexican-style home, yet with all modern amenities. We provide the most spacious and private of accommodations, consisting of bedsittingroom with queen size bed, futon, 3 piece settee, cable TV with DVDs; fully equipped eat-in kitchen; walk out to your patio with lawn chairs and hand-hewn stone table; 3 piece bathroom; optional small extra bedroom with bunks, and a second independent rental unit if vacationing with another couple or adult children. Take pleasure in the personal touch of a bed & breakfast, the spaciousness of your own home, comfort and cleanliness of a hotel, and suburban tranquility, awaking to the rich sounds of roosters and Mexican music echoing across the valley.

We spent four years building our home, paying great attention to detail, using a Oaxacan archicect/builder. You therefore benefit from traditional Mexican style and design, while at the same time North American comforts and conveniences: privacy, security, lots of hot water, the little things like microwave and electric coffee maker, juicer and toaster, and spaciousness…bedsittingroom is 19' x 13', kitchen is 14' x 15', and patio is 20' x 22'.

Enjoy complete privacy with your own entrance. Laundry facilities and internet connection are available. Consider taking advantage of our tour guide services to visit markets and craft villages and other sights. Private cooking classes by a renowned Oaxacan chef are available. Casa Machaya comfortably accommodates two couples, a family, or a guest traveling alone. The location is a respite away from the smog and hustle and bustle of downtown. You are assured of a pleasant indoor temperature no matter how hot outside, since our home is of stone, brick and adobe. Since there is only one rental unit, your hosts are dedicated to making your stay as pleasant and comfortable as possible, and are your personal resource experts. For exercise and nature lovers, a stone pathway winding up the mountain is only a minute from the house, conducive to an early morning walk or jog. With your own kitchen you aren't tied to restaurant food. You may use our gas BBQ as well. With Canadian, middle class hosts, you are assured of a stay with no cultural surprises.
Rates
For a couple or an individual:

Daily US$69
Weekly US$415
Monthly (without breakfast) US$1200

*Rates available on request for three or more persons
**Rates increases nominally for Guelazuetza, Day of the Dead and Christmas

INCLUDED IN THE PRICE:
Your Hosts as Resources
Since 1991 we have been familiarizing ourselves and gaining expertise about the life and richness of the numerous cultures which constitute Oaxaca and environs. To the extent that you wish or need assistance, we can advise you about: how to prioritize your time in the city so you see the sights that are the most important to you; the best and most interesting museums, galleries, churches, ruins, restaurants and villages; shopping and shipping; off the beaten road attractions such as ecotourism, birdwatching or cycling expeditions, Hierve el Agua adventures for a day or two into the mountains to visit more hidden-away cultures or perhaps hunt for antiques. And we offer our guide services in air conditioned vehicles so you can maximize what you see in a day, such as combining going to villages on their market days with visiting a ruin, seeing the Tule tree or learning about the age-old tradition of manufacturing mezcal and sampling as it virtually drips from the still. . .and attending the craft villages: San Bartolo Coyotepec (barro negro or black pottery); Teotitlan del Valle (tapetes or rugs); San Martín Tilcajete (alebrijes or hand-carved brilliantly painted figures); Santo Tomás Jalieza (textiles); and many more, including ones you likely won't have heard of. Our modest library is available to you for further cultural, historical and anthropological information.
Articles Written by the Starkmans:
Acquainted with the Night
Alejibres and Copal
Am I Paying my Staff Too Much
Angélica Vásquez, Ceramicist
Antiquing Around Oaxaca
Armando Ramírez, Sculptor
Arroyo Guacamaya
Art Museums and Galleries
Azucena Zapoteca
Barbacoa
Bargaining in Mexico
Barro Negro, an Overview
Baseball at its Best
Book Review: No Word for Welcome
Book Review: Mezcalaria, the Cult of Mezcal
Book Review: Zapotec Oaxaca
Burger King on M. Alcalá
La Catrina de Alcalá
Casa Santiago: Rug Weavers
A Taste of Oaxaca in Toronto
Chango Mezcalero Mezcal Bottle
Chango Mezcalero Origin
Chapulines
Charitable Donations: CORAL
Chef Sets Toronto Ablaze
Children's Cooking Classes
Church Attire
Cooking School - Casa de los Sabores
Cochineal
Cocina con Nora
Consumer Protection: A Case Study
Culinary Tour, Oaxaca
Death of an Infant
Digging a Well
Drive from Oaxaca to Puerto E.
Driving Laws Newly Enforced
Driving Mexico City to Oaxaca
Driving San Cristóbal and Palenque
Drug Wars
Enrique Flores, Artist
Erotic art of Gerardo Navarro Gómez
Feria del Mezcal
Filming a Documentary in Oaxaca
Fiona Dunnett, Painter
Flying to Hierve el Agua
Found Objects as Art
Friduskas Dolls
Fundación en Vía
Gilberto Arreortua, guide
Green Housing for Seniors
Guelaguetza
¡Hey Compadre!
Hierve el Agua
Hospitality Industry in Oaxaca
Ixtle
Which Legal System is Better?
Magical Mushroom Tour
Manuel Reyes, Artist
Mayonnaise
Medical Treatment in Oaxaca
Methanol and Mezcal
Mexican Beer
Mexican Folk Art
Mexican Art At Auction
Mexico's Mezcal
Mezcal with Beer
Mezcal Branding
Mezcal Brands
Mezcal as Green
Mezcal in Oaxaca
Mezcal Pechuga
Mezcal Production 2015
Mezcal, Santa Catarina Minas
Mezcal, Scorpion
Mezcaleros Sociedad
Mixe of the Sierra Norte
Molino Cooking Class
Motorcycle Diary
Motorcycles, Scooters, and Surviving
La Muerte Mezcal
Mushrooms and Ecotourism
Mushrooms in Oaxaca
Noches Mágicas
Oaxaca's Art Galleries
Oaxaca Lending Library
Oaxacan Shoeshine
Oaxaca, Money and Exchange
Organic Produce
El Patio
Penal Reform Talks
Pets in Mexico
Photography
Pilar Class Review
ProMéxico Promotes Mezcal
Pulque in Matatlán I
Pulque in Matatlán II
Rabbit Hunting
Recicado from the Mixteca Alta
Restaurante Almendros
Restaurante Biznaga
Restaurante Caldo de Piedra
Restaurante Casa Oaxaca
Restaurante El Faro
Restaurante Guadua
Restaurante La Olla
Restaurante Mirador
Restaurante Seis Palmas
Restaurante el Tigre
Restaurante Veracruz
Restaurante Vieja Lira
Retirement in Mexico
Rules of the Road
Rural Mezcal Production
San Marcos Potters
Should I Rent a Car in Oaxaca?
Slow Food and Mezcal
Stormy Weather
Tattoo Artists
Tejate
Temazcal in Oaxaca
Tlacolula Festival
Tlacolula School
Traveling Light to Oaxaca?
Traveling with Children
Under the Sun Series
Vivo Resorts
Weekend in Oaxaca
Whiskey in Oaxaca
A rich wood carving tradition