If visitors to Oaxacan cooking school La Casa de los Sabores came away with nothing more than great recipes and a gastronomic meal rich in unique herb- and spice-accented flavor combinations that are the hallmark of Oaxacan cuisine, they would leave fully satisfied. But a visit with owner and chef extraordinaire Pilar Cabrera also inspires and sates travelers with a sensual day-long immersion into sights, sounds, smells and, yes, tastes and time-tested recipes of southern Mexico.


As always, a recent culinary odyssey with Pili, as she is known, began at La Casa de los Sabores first thing in the morning – at 9:30 a.m. Over the next few hours, she introduced me and the others in the class to the wisdom and experience of her great matriarchal culinary tradition. Pili learned the basics and the subtleties, including the mysteries of the famed seven moles, from her grandmother, who learned from her grandmother before her. She is a Oaxaca-born master of southern Mexico cookery as well as international epicurean trends, capable of sharing the secrets of preparing the most multifarious meal with novice and expert alike – in English and in Spanish.


Our day began with Pili's informal talk about the menu and the foods she was going to introduce us to in one of Oaxaca's colorful markets. The extra attention to the key ingredients of Oaxacan cuisine kept us spellbound. "What we will achieve today with the chilis," she told us, "is hot and tropical … with the Chile de agua, you will see we use it not only for flavor but color as well, and I will teach you how we keep this beautiful, brilliant green."


Once prepared with this knowledge, we all embarked on a shopping trip to the well-known marketplace, Mercado de La Merced, armed with multhued bolsas – market bags – to carry the compras – purchases. Pili had readied a partial shopping list, but, she advised us, she always adds "surprises," such as fresh foodstuffs which peasant women from the mountains sometimes bring down.


"When you have a chance to find something real special or unusual, you buy and incorporate into the comida," she explained. "Today, for instance, we look for mushrooms, because they grow so beautifully in the rainy season. Also, we will see what kind of fresh fruit we can use for the dessert."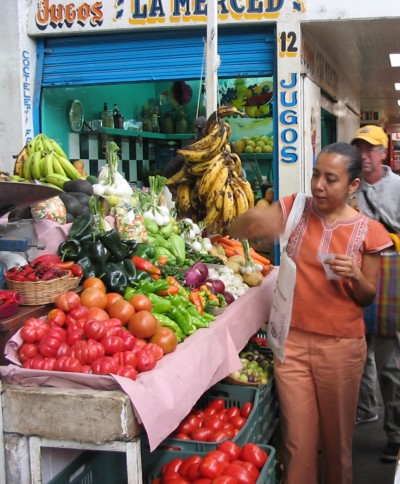 Mercado La Merced More Photos

Her insights into the unique stores and small factories enriched the short walk to the market. A rich bouquet drew us into a mill that was making chocolate from scratch. As Pilar told us about the ingredients – cacao, cinnamon, almonds and sugar – the owner welcomed us with, "do you want to taste?"