Home >> Oaxaca >> Oaxaca, Oaxaca >> Chef Pilar Cabera Cooking Class
Chef Pilar Cabera & Casa de los Sabores Oaxaca Cooking School: At the Cutting Edge of Mexican Cuisine

an article by Alvin Starkman of Casa Machaya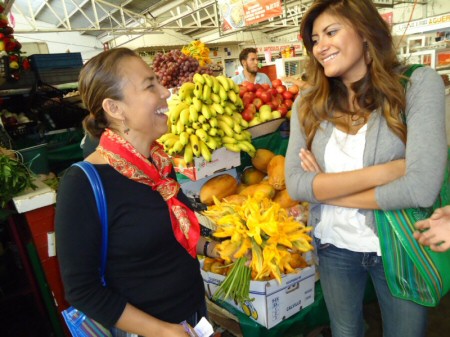 Pilar with Bricia Lopez of La Guelaguetza at the Market More Photos

I first attended a cooking class with Chef Pilar Cabrera Arroyo four years ago at her Casa de los Sabores Cooking School. I was impressed with not only her cooking and teaching skills, but her uncanny ability to instruct at all levels of learning (novices and chefs alike), in both English and Spanish. Since then Pilar's star has risen dramatically: more international press; travel to Canada and the US to represent Oaxacan cuisine; wholesale acceptance as a peer by the most renowned chefs in Mexico and indeed further abroad.

Although Pilar and I have become friends since I first reviewed her class, for me literary and gastronomic integrity must trump personal relationships. I had to satisfy myself that she had not stepped into the trap which at times befalls chefs once they attain prominence in the culinary world; complacency regarding innovation, and too much delegation of responsibility to staff. Hence last month I attended another class.

Chichilo is the mole made least often both in restaurants and homes in Oaxaca. The main chile used to make it, chilhuacle, only grows in Oaxaca, is several times as expensive as other chiles, and is often hard to find in markets. With other moles you can get away using alternate dried peppers, but not when making chichilo. So when Pilar called me and asked if I'd be interested in learning how to make the phantom mole, I jumped at the opportunity. I didn't know the half of the treat that was in store for me - and for the other six aficionados of Mexican food.

Our group was comprised of Anglophones as well as Mexican - Americans, including Bricia López, co-owner of acclaimed L.A. Restaurante Guelaguetza. We gathered at the casa mid - morning. Seasonal, organic and 100% Oaxacan would be the order of the day, we came to learn as Pilar explained a little about each dish we'd be making. At the same time she provided brief, anecdotal lessons in cultural history. "Maize and zucchini have been grown together since time immemorial in Oaxaca, with squash runners climbing up corn stocks; so its fitting that sopa de guias is made with all the parts of the zucchini plant plus a piece of corn," she explained.

"Friday is a great day to go to Sánchez Pascua market because it's a day when people from mountain villages come to the market to sell produce picked early the same morning." She continued: "I'm hoping we can still get wild mushrooms to sauté to put on the memelitas."

As Pilar explained each dish and the ingredients we'd be buying, her continuing passion for her job became obvious. To a number we became excited about the day ahead of us. Sopa de guias, mole chichilo with chicken, memelitas with wild mushrooms, and still more. "We're also going to make a salsa with chile de arbol for the guias; rajas of onion, lime juice and grilled chile de agua to accompany the chichilo [rajas are strips of vegetables invariably including chiles, marinated], pay de requesón [Oaxacan cheesecake] with Oaxacan chocolate and hibiscus flower; and I have some chicatanas from earlier this season so we can make a salsa for the memelitas."

Chicatanas are a truly rare Oaxacan delicacy of the insect order, in a class of their own. They're easily distinguished from gusanos (the larvae referred to as worms) and chapulines (grasshoppers). After the first rains of the season the chicatana emerges from the ground, much like an ant but with more of a beetle appearance. Some years you're lucky to be able to find a couple of pounds. Their season is the shortest of any foodstuff I've known, except for perhaps the oversized crawfish-like langostinos found near the banks of some freshwater Oaxaca rivers around the same time of year. Chicatanas make an exceptional salsa when combined with garlic, salt and chile de arbol.

Immediately upon arrival at the market we found wild mushrooms, then zucchini. "I want the small ones, we're making guias," she requested of the vendor kneeling on the ground, produce neatly displayed in small piles. Next we hunted down the remaining sopa de guias ingredients. Then a lesson on the subtle differences between avocado leaf with an anis aroma used to make tortilla soup and tamales, and hierba de conejo for beans.

We discussed the different Oaxacan quesos at the cheese lady's stall, learned the best time of year to eat chapulines, and why the chicken was not bright yellow like in the supermarket. In about 40 minutes not only had we bought what we needed but learned dozens of tidbits of information about seasonal and organic production, traditional Oaxacan cookery, and the impact of 21st century change on the lives of Oaxaca's residents.

Back at the casa Pilar's assistants Mari and Uriel arranged ingredients for each recipe in a separate basket. Pilar then explained how we would be making each recipe. We put on our aprons, gathered round the island at the center of the kitchen, and began.

Pilar showed the novices how to clean dried chiles (no, you don't put them under the tap and wash or soak them) and the more advanced what part of zucchini runners to use and why. "This is why we cut the zucchini lengthwise," she explained, then "you know you don't often find sopa de guias in a good restaurant because it's so labor intensive and should be eaten at the moment." Then "try the chichilo now, before we put in the final ingredients, like this," she illustrated, waiting for someone to comment on its surprising sweet tones. And so the lesson progressed.

Although we were split up into twos or threes to expedite processes, invariably one group finished first so would chip in helping out the other group. In the end each of us had a hand in every dish. Pilar was present at all times, working with each group. Uriel and Mari did mainly pre-prep, ensured that all proceeded smoothly, and were continuously cleaning up our messes - compostable here, the rest there.

"Can you use bacon grease instead of manteca [pork fat] for the memelitas?" someone asked. "Yes, and if you can't find different mushrooms, commercial ones will do or you can use potato pieces sautéed in olive oil," Pilar divulged. For every ingredient which could conceivably not be sourced back home, Pilar provided alternative suggestions.

After a toast with mezcal and its traditional accompaniments we sat down at an exquisitely set table. For the first time I tasted sopa de guias the way it should be, and understood what Pilar meant by eating it at the moment; absent the excessive corn starch á la hot-and-sour soup - instead, fresh seasonal squash in a light broth ready for a bit of spice from our own salsa de chile de arbol. Memelitas with hongos silvestres with a dollop of salsa de chicatana smoothly ground to perfection in a molcajete. Mole chichilo con pollo with braised vegetables, rajas added to taste. For dessert, what can top a textured cheesecake encircled with Oaxacan chocolate and crowned with hibiscus flower?

Pilar Cabrera continues to maintain her cutting edge. She is as ardent as ever about Oaxacan cuisine and teaching the tools of her trade. When asked by a journalist to give one piece of advice to apprentice chefs she was about to teach at Stratford Chefs School in Canada, Pilar answered, "if you want to excel as a chef you have to enjoy what you're doing and be passionate about it." The name Pilar Cabrera is synonymous with culinary passion; there's nothing more you could ask for in a Oaxacan cooking class.

NOTES:
---
Alvin Starkman and his wife Arlene operate Casa Machaya Oaxaca Bed & Breakfast. Alvin has written over 230 articles about life and cultural traditions in Oaxaca, including restaurant and cooking school reviews. He is a paid contributing writer for Mexico Today. Alvin leads families and couples into Oaxaca's central valleys for day trips. He can be reached at oaxacadream@hotmail.com.
---
This page has been visited times since August 22, 2012.
| Top of page | Main index | Search | What's new |