Home >> Oaxaca >> Oaxaca, Oaxaca >> A Taste of Oaxaca, Mexico in Toronto
A Taste of Oaxaca, Mexico in Toronto, Canada, with Chef Pilar Cabrera Arroyo

by Alvin Starkman of Casa Machaya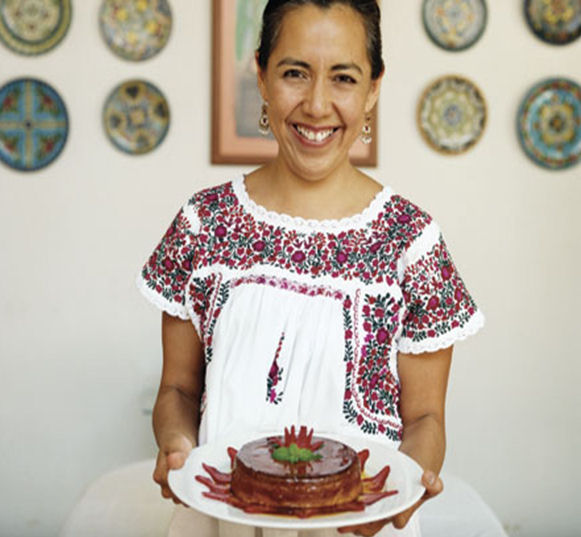 Pilar Cabrera Arroyo, holding one of her luscious flans
Renowned Oaxacan chef Pilar Cabrera is taking the bull by the horns. With tourism predicted to be a little weak for the remainder of the year as a result of the adverse publicity generated by the Swine Flu, her way of dealing with an economic downturn which will likely impact the entire country, is to not only find ways to bring tourism to Oaxaca, but to take a little bit of Oaxaca on the road ... and out of the country; at least for a couple of weeks. September is traditionally a slow time for tourism, so Pilar is seizing an opportunity by flying up to Toronto, and with the assistance of a well-known food researcher, writer and television and documentary producer, is offering her services to Ontario restaurants and cooking schools. The following is her press release:
The sun-drenched valley city of Oaxaca, in the Mexican state of the same name, is considered by many to be the country's culinary capital. Apart from being the land of seven moles (pronounced moh-leh), Oaxaca also boasts an impressive gastronomic repertoire long admired by the rest of Mexico and gastronomes the world over. Working within the state's rich and proud culinary heritage is one of Oaxaca City's brightest lights in the food world, Pilar Cabrera Arroyo (in photo holding one of her luscious flans). This September, 2009, Pilar will be visiting Toronto, ON to share those well-preserved traditions with food enthusiasts throughout the GTA.
Pilar grew up in Oaxaca City surrounded by the state's vast food history and ingredients- including chile dusted fried grasshoppers (chapulines) and pre-Hispanic dishes that tell the tales of ancient, native peoples. After completing a food engineering and nutrition degree, she worked in research and development for the food giant Herdez-McMormick before returning to her true passion- cooking. In 1994, she opened her own restaurant, the award-winning "La Olla" (or the Pot), featuring the produce of regional (when possible, organic) farmers who help make her Oaxacan cuisine a living work of art.
Pilar has also found a growing fan-base of intrigued foodies around the globe through her "Casa de los Sabores" (House of Flavours) cooking school where banana leaf wrapped tamales, rose petal sorbet and Oaxacan yellow mole have become oft-requested recipes. Oaxacan cuisine is a labour of love that requires attention, a deft hand, fine-tuned taste buds and old-world knowledge. Pilar learned the basics and the cuisine's subtleties from her mother and grandmother. She's an excellent teacher and speaks English fluently.
Some of Pilar's Oaxacan Menu Options Include:

Black mole with chicken

Sopa Azteca (Tortilla soup seasoned with avocado leaves)
Tamales de Calabaza con Chocolate (Squash and chocolate tamales)
Taquitos sauves de nopalitos (Tender cactus paddles in soft corn tortillas)
Mole Negro con pollo o guajolote (Black mole with chicken or turkey - see photo inset)
Memelitas (Small corn tortillas stuffed with cheese)
Gelatina de rompope (Eggnog gelatin)
Flores de calabaza rellenas de requesón (Squash blossoms filled with requesón cheese)
For Pilar, sharing the food of Oaxaca with Torontonians is akin to giving them a glimpse into the region and the dishes that satisfy both body and soul. And for the first time in the chef's illustrious career, she'll finally have the opportunity to do just that this September.

To inquire about restaurants and cooking schools in Ontario where Pilar will be working her magic, or for further information regarding opportunities for your own restaurant or cooking school, please contact:
Mary Luz Mejia - Sizzling Communications (in Toronto)
E: mluzy@hotmail.com ; Cel: 416 -992-2644 ; Office: 416-763-3455

For a report of Pilar's visit to Toronto, see Oaxacan Chef Sets City of Toronto Ablaze.

| Top of page | Main index | Search | What's new |
---
The Pacific Coast of Mexico

www.tomzap.com

Tom Penick:&nbsp tom@tomzap.com