Home >> Oaxaca >> Puerto Escondido, Oaxaca >> Vivo Resorts
Vivo Resorts: Puerto Escondido Comes of Age with Luxury Oceanfront Homes & Condos

an article by Alvin Starkman of Casa Machaya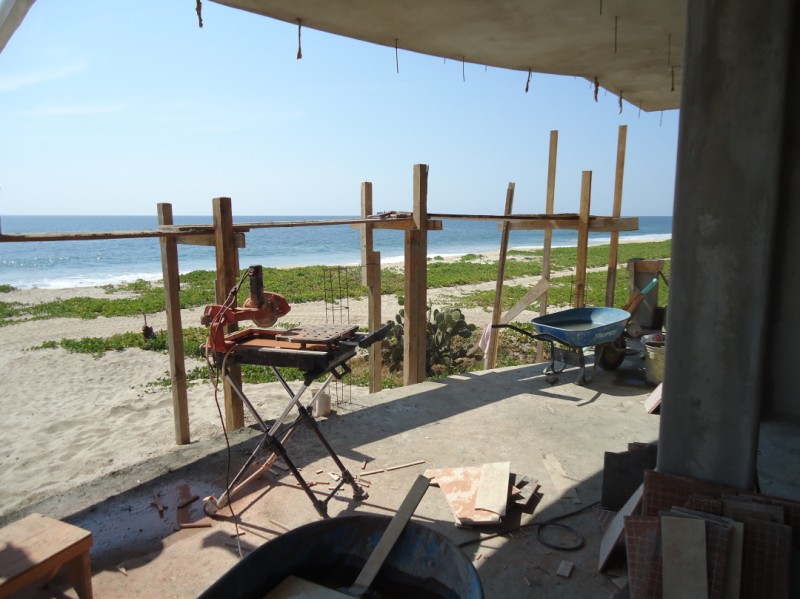 A Vivo Resorts condo under construction

Two-time Canadian Olympian and World Cup downhill champion Cary Mullen was recovering in Maui, Hawaii, from a ski accident. He began to ponder a prime location in the world to build an affordable beachfront community of homes and condominiums for people like him; those who are still relatively young, yet are already starting to think about a warm climate for part - time residence, a future for themselves and their families. He compiled a list of 44 factors to consider, investigated 30 countries, and personally visited over a dozen before settling on Puerto Escondido, in the southern Mexico state of Oaxaca.

Mullen wasn't interested in building simply a sun, sand and surf retirement community. In a conversation at his Vivo Resorts building site, he explained that the idea was never to attract just retirees:

"I was looking at two demographics; Baby Zoomers, and generation Mex. 'Pretired' Canadians [and Americans] who realize that they don't have to live in a cold weather climate all year round. People like me who want to practice for retirement, which might come three, four or 10 years down the road."

In 2007, Mullen purchased 30 hectares of land, about a 12 minute drive up the Pacific coast from Puerto Escondido. The development has 735 meters of oceanfront, is 400 meters deep, and includes a tranquil piece of property (slated to remain as such) for the exclusive use of residents, backing onto a lagoon filled with mangroves, fish, birds and other assorted flora and fauna.

Mullen has already sold a number of oceanfront and ocean view lots, as well as several condominium units in Phase One of his development. As of late November, 2010, construction of the condos and pool was well underway.

Why Buy in Puerto Escondido, Mexico, Versus Anywhere Else Around The Globe?

Four of Mullen's 44 factors stand out. A comparative analysis made the choice of Puerto Escondido, as opposed to any other beach location, relatively easy.

Weather as a Key Determinant in Selecting Puerto Escondido

Amongst other considerations, Mullen studied frequency and strength of hurricanes, temperature variation and rainfall. He found that, for example, over a 150 year period Cancun has had 38 significant hurricanes, compared to only three in Puerto Escondido. In Puerto Escondido there is only a 5°F average temperature variation year round, ranging from 78.3 to 83.3, and total rainfall between the end of October and the end of May is about 1/3 of an inch.

The water temperature is warmer in the Pacific at Puerto Escondido than in the Caribbean or Hawaii. "When vacationers can only take off work for a week or two, they want good weather; they actually want to be guaranteed that they'll have great weather the entire time," Mullen stresses. He continues: "I came to realize that real estate agents only want to show warm climate ocean properties in the mornings, because in the afternoons the wind tends to pick up. But in Puerto Escondido we're blessed with just gentle breezes."

Investment Timing for Purchasing Land or a Condominium in Puerto Escondido

Puerto Escondido is one of the few beach locations still showing relatively low cost of land and construction per square foot. Mullen cites resort properties in Cabo San Lucas, Baja California, as an area where exorbitant land costs have made purchasing there inaccessible for most. He illustrates that in Cabo San Lucas it's almost five times as expensive as buying along Oaxaca's Pacific coast.

"And here in Puerto Escondido we're seeing really strong investment returns for condo rentals." He continues, with a sound prediction: "Just wait until the highway widening project between the city of Oaxaca and Puerto Escondido is completed. A lot more people, both residents of and vacationers to south and central Mexico, will be interested in renting homes and condominiums along the coast. Mexico has one of the strongest world economies; compare it to that of the US in recent years, for example. The Mexican stock market has been performing phenomenally."

Safety & Security in Puerto Escondido, Mexico

"I spent a big part of my life on the World Cup circuit, risking my life," Mullen admits. "The last thing I want to do now is anything which would create fear and insecurity in my life. I'm in my forties with a wife and three young children, and parents in their sixties who are thrilled to be able to spend time here in Mexico with their grandchildren. I've bought a condo unit in the development for us. Right now I, my wife and children live here six months a year, and in Canada the other six months. But our future is Puerto Escondido, perhaps not 12 months a year any time soon, but it's something I want for my wife and our family, and an investment for our children; so they'll always have somewhere to go to vacation, and the option of making Puerto Escondido their home."

Mullen cited the recent arrival in Puerto Escondido of a new hospital, several car dealerships, vastly improved options for private schools for children, and a large grocery store chain. In addition, a number of construction material outlets have been springing up, evidence of a building boom. "And there's more on the way. Look, in the state capital," he boasts, "we already have a Sam's Club, Sears, Fábricas de Francia [similar to Bloomingdale's]. These chains don't open up unless they've done their homework, and are confident about growth potential, signifying confidence in future safety and security of the region."

Mullen correctly cites comparative statistics in support of the proposition that the media carelessly and wrongly paints all of Mexico with one broad stroke of the brush, and that Puerto Escondido is much safer than the cities in which most Canadians and Americans live. He continues:

"Last week in Calgary there was a bad snowfall; there were more than 600 traffic accidents in one single day. People caution about swimming in the ocean, yet only five people die of shark attacks annually worldwide, while 200 die from faulty toasters and 1,000 from hippopotamus incidents. My mom has no qualms whatsoever about going for long walks by herself along the beach here in Puerto Escondido, or in town for that matter. Do you think she'd feel that way about walking alone in Chicago, New York or Acapulco?"

People & Pace in Puerto Escondido

While it's difficult to compare statistics when it comes to the people and pace of living in one part of the world versus another, according to Mullen Puerto Escondido does stand out from many other warm weather retirement and tourist destinations. He finds the people extremely friendly, always greeting with a smile and offering their assistance. He believes that he and other non-Mexicans don't particularly stand out, and are certainly not constantly harassed by hawkers of every kind of product and service. It's easier for Canadians and Americans to become part of the broader society if they're so inclined, perhaps because residents of Puerto Escondido have been accustomed to dealing with foreigners for generations; Puerto Escondido has existed as a port town for literally hundreds of years, with non - Mexicans coming and going, and staying.

Puerto Escondido Versus Huatulco, A Short Drive Down the Pacific Coast Highway

My personal bias has always been in favour of Puerto Escondido over Huatulco, two vastly different cities, yet separated by only 1½ hours of coastal highway. Back in 2005, I predicted that over time, Huatulco, a resort town built by the Mexican government to be a world class tourist destination, would develop its own quaintness akin to that of Puerto Escondido, and a unique culture complete with color and pageantry. My thinking was that over the course of a generation, the Mexican population in Huatulco, that is, those individuals transplanted from other parts of the state and country to provide goods and services, would inevitably build for themselves neighborhoods, marketplaces, bars and comedors, and other indicia of a complete social structure. Mullen sees such a metamorphosis as being a long way off. He maintains that there's still a significant difference between the two sister cities; I have to agree with his assessment: "Huatulco is like a movie set; designed and manicured. Except for the very small downtown area, La Crucecita, which is a fair distance from most of the resort areas, there's an air of unreality to it. And even La Crucecita seems moulded for tourists and no one else. It just lacks something. Puerto Escondido has a soul, and there's a positive vibe that Huatulco in my estimation is missing, plain and simple.

"Even the surfing sub-culture component to Puerto Escondido is remarkable. And yes, it feels to me like a [winter] ski town. Perhaps that's part of what attracted me to it. It has vibrancy; it's full of youth and energy. But at the same time, there's a very strong local dimension, with traditional native festivals going on throughout the year, as has been the case for generations. So while Huatulco does have many of the attributes of Puerto Escondido, and ranks up there based on the factors I initially enumerated and compared, there's a significant difference, in the respect I've indicated."

Cary Mullen's Pedigree: Success in Real Estate Development Leads to Mexican Investment

Cary Mullen is far from just a retired ski champion looking to conquer a different series of moguls. Success in real estate is in his blood; no different than his athleticism. When Mullen was 10 years old he saw his father buy his first investment building, and he took notice of it, and an immediate interest. Mullen would spend weekends alongside his dad, learning the trade. At 19 he got his real estate license, and at 21 purchased his first property, on his own: "I knew that I had to have a fallback plan, and that being a professional athlete is a short career, especially as a skier. We're not like major league pitchers who can work into their forties by finessing how they throw the ball, or like the Bret Favres in the football world."

Mullen had an eye for the residential real estate market, such that he began buying and selling houses, invariably making a handsome profit at every turn. He would always purchase prime geography. He converted a duplex into a four-plex, then an apartment building into condo units; all this while competing on the ski hills.

The Canadian real estate experience taught him to look for opportunities - undervalued properties. "This is my new play, finding affordable beachfront that is attractive to people in my kind of demographic. I didn't just go out and buy a piece of oceanfront and decide to build and market. I've been doing my homework for several years, using study habits I've honed and perfected over the course of more than 20 years."

It's one thing to have investors, and to work with their money and hope for the best. But it's another to do it all on your own, relying on your experience, instinct and research, and to put it on the line. Indeed Mullen has had opportunities to take in partners in Vivo Resorts. But he's an expert at what he does; the same drive, passion and talent which lifted him onto the world stage in skiing, is guiding him in Puerto Escondido.

"Wait just a minute Alvin," Mullen says as we're walking through one of the oceanfront condos under construction. "I have to speak to one of my men and show him something. A couple of days ago I decided to make a change to this unit, to make the living room larger and appear much more spacious, with more of an ocean view. I have to show him what I mean. You see if I had investors, we'd have to have meetings and discussions; but it's just me, so I can decide on my own what I know is best for the people I'm selling to. And yet I am very fortunate to have an incredible team working with me."

Vivo Resorts in Puerto Escondido Caters to a Cross-Section of Investors, Vacationers & Retirees

One of Mullen's goals is to provide as much of a view of the ocean as practicable, to as many condo units as possible. At the same time he's committed to making prices as accessible as possible to the broadest range of prospective purchasers. In his initial development there are 156 condominium units and 104 building lots, although he's now just concentrating on the first phase of the development. The prices of the condo units range from $59,000 for a studio, to $549,000 for a 3,886 square foot four bedroom oceanfront penthouse ... and everything in between. Vivo Resort building lots range from the $40,000 mountain-view lots, up to sprawling $265,000 sandy beach oceanfront properties. I did the math, and the pricing per square meter impressed, both in terms of the serviced lots, and condominium units built with higher end finishes.

Those purchasing raw land have the option of using one of Mullen's recommended contractors (he opted for a Mexican crew for his development after interviewing and evaluating Mexican, Canadian and American companies), or retaining architects and contractors on their own. Homeowners have access to all of the facilities of the condominium clubhouse such as restaurant, lounge and spa; meditation and yoga room; tennis courts and sports field; ocean view fitness club; VIP business center; conference space; general store; and kids' club / daycare center; "As you can see, Vivo Resorts is not just for retirees; I want families just like mine to have the option of spending a large part of the year here; and with the internet and the global economy, many working men and women have the option of earning a living from anywhere, even here - while gazing out onto the ocean from their living rooms."

Casa Rubia in Puerto Escondido Facilitates Opportunity to Visit Vivo Resorts

Even though Mullen sponsors information sessions to attract prospective purchasers, he's not one who believes in the hard sell, or in the guise of giving away something for nothing. He assures: "No, no, no; that's not me, and it's not my style, and never has been. I know what I have and what I am building, and that it sells itself; at least to those who have done their due diligence. In fact I never dissuade people from looking around at different opportunities. That's exactly what I initially did a few years back, looked at all of my options, and why I purchased this tract of land and am doing what I'm doing." He's up front about it: "And I'm not giving away free trips to a Mexican resort."

What Mullen is in fact doing is providing potential buyers with an opportunity to fly down to Puerto Escondido, spend a few days scoping out the area, and his resort, within the context of a vacation. While visiting, they stay at Mullen's Casa Rubia, an ultra - luxurious oceanfront complex with six bedrooms each with en suite, media room with WIFI and satellite TV, living room with expansive wraparound sofa opening onto an exquisite dining area, and other facilities all spread over 15,000 square feet.

Yes, Mullen pampers his guests, with a dedicated bilingual staff including maids, butler, property manager, chauffer / handyman, and Mexican chef. But he doesn't give away free trips to Puerto Escondido. Prospective purchases can look at his website, communicate with him or his staff by phone or email, and then if the interest is there, fly down at their own expense, and stay at Casa Rubia at a rate well below the value provided. "Sure, for those who end up buying we reimburse part of the cost of the vacation," Mullen acknowledges, "but those who come down and decide it's not for them, for whatever reason, they leave having had a great vacation, first class all the way." Mullen provides visitors to Casa Rubia and Vivo Resorts with an all-inclusive package. Each visitor is provided with a personalized, comprehensive and extremely detailed "Stay & Play Itinerary" for the full six days, outlining meals and happy hours, shopping and boat tours, visits to the main beaches, relaxation periods to sun and swim at Casa Rubia, and of course, time to visit the Vivo Resorts development to learn and ask questions. Significantly, portions of only three days out of six are devoted to visiting the development and question and answer periods - two mornings and one after - lunch discussion session

One thing for sure, a visit to Casa Rubia and Vivo Resorts makes you start thinking about your future, and the quality of life you want for yourself and your family, both down the road and right now.

Vivo Resorts Oceanfront Properties in Puerto Escondido, Oaxaca, Mexico
For further information, contact Vivo Resorts:
http://www.vivoresorts.com
Phone from Canada and the US: 403 - 827 - 3210
Phone from Mexico: 558 - 421 - 7212
Email: info@vivoresorts.com

Alvin Starkman (M.A., LL.B.), is a former Torontonian, now a resident of Oaxaca. Alvin and his wife Arlene operate Casa Machaya Oaxaca Bed & Breakfast (http://www.oaxacadream.com); however Alvin has no vested or other interest in Vivo Resorts. Alvin writes articles about life and cultural traditions in Oaxaca for magazines, newspapers and websites, takes couples and families to the sights in Oaxaca's central valleys, consults to documentary production companies working in the region, and arranges Oaxaca culinary tours (http://www.oaxacaculinarytours.com).
---
Alvin Starkman (M.A., LL.B.), is a former Torontonian, now a resident of Oaxaca. Alvin and his wife Arlene operate Casa Machaya Oaxaca Bed & Breakfast, however Alvin has no vested or other interest in Vivo Resorts. Alvin writes articles about life and cultural traditions in Oaxaca for magazines, newspapers and websites, takes couples and families to the sights in Oaxaca's central valleys, consults to documentary production companies working in the region, and arranges Oaxaca culinary tours (http://www.oaxacaculinarytours.com).
---
This page has been visited times since February 13, 2011.
| Top of page | Main index | Search | What's new |