Home >> Oaxaca >> Oaxaca, Oaxaca >> The Zapotec Ruin at Mitla, with a Federally Licensed Guide
The Zapotec Ruin at Mitla, with a Federally Licensed Guide

an article by Alvin Starkman of Casa Machaya
March 2011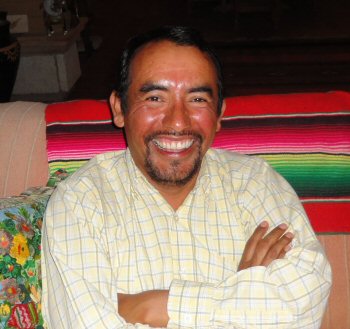 Gilberto Arreortua Jimenez

Gilberto Arreortua Jimenez has been a federally licensed tour guide working at the Mitla archaeological zone in Oaxaca, since 1997. Being able to guide tourists in English, French, Italian, and of course in Spanish, is quite a feat for anyone, let alone a Zapotec native who grew up in the village of Capulalpam de Mendez (now designated a pueblo magico1 or "magical village" by the government of Mexico). One would be hard-pressed to find any other guide who works at Mitla on virtually a daily basis, with Gilberto's credentials - university educated in linguistics, and lifetime student of archaeology.

Overview of the Zapotec Ruin of Mitla, Oaxaca

Mitla dates back about 1,000 years, perhaps less, and is thus one of the more recent ruins within the context of Oaxacan archaeology. However it was restored relatively early, at the beginning of the 20th century while Mexico was under the rule of Porfirio Diaz. Mitla is the second most popular archaeological site in the state of Oaxaca, after Monte Alban. It's a 50 minute drive from the capital, along the popular Sunday route to el Tule, Tlacochahuaya, the Tlacolula market, and various other archaeological sites such as Dainzu, Lambityeco and Yagul. It's also the take-off point for visiting the Xaaga pictographs, the mezcal factories of San Lorenzo Albarradas and San Jose del Rio, Hierve el Agua, and the Mixe District.

The main Mitla attractions include:
The precision angles of the limestone walls and massive lintels, and upwards of 100,000 small cut mosaic stones hand-formed using rudimentary tools;
Its dry construction whereby the limestone pieces were fit into clay, rather than affixed with mortar;
The quality of some of the remaining painted glyphs;
The two tombs;
The church, constructed by the Dominicans in the 16th century, on top of a Zapotec temple, using stones dismantled from Zapotec buildings by the Spanish conquistadores.
Multilingual Mitla Tour Guide: Family Background, Experience & Education, and Certification
Gilberto is 47 years old, married and has two children age 13 and seven months. His wife is employed in an administrative capacity by the federal government.
Gilberto's family lives in a modest brick home in a working class neighbourhood in Oaxaca's east end, making for an easy drive to Mitla. "I'm in the process of constructing a rental building on land I own near El Tecnologico [a university], for students and tourists, sort of a hostel," Gilberto revealed one evening while visiting me with his wife, children and nephew. "I'm not in a rush. Right now we're doing fine, and I know that with what we've already accomplished our family will be well-provided for down the road."
At age six, Gilberto moved to Oaxaca from Capulalpam with his parents and siblings. A year later his father died. His mother died when he was 17, after which his older sister assumed parental responsibilities.
Gilberto doesn't attribute his parents' influence as the greatest determinant of his career path: "I was always interested in learning about foreign cultures and world archaeology, from as young as I can remember, eager to look at any books I could find; I suppose that interest lead to wanting to learn different languages."
Gilberto studied languages for four years; hence, his proficiency in English, Italian and French. A career in tourism was a natural. In 1991 he began working at a travel agency, and continued in that vocation for close to three years. After Gilberto decided to become a licensed guide, rather than take a formal course he self-taught, enabling him to work while studying. After passing the exams and being certified as a federally licensed tour guide, he began working throughout the state in different capacities.
Gilberto eventually decided to work exclusively at Mitla: "I'd already been a student of pre-history, and I'm Zapotec, so deciding to work at Mitla was easy; and of course not having to compete with several other guides with linguistic proficiency like I would have had to do at Monte Alban, made Mitla a logical choice."
Gilberto always has the economic well-being of his wife and children as the primary focus in his life. Since he's licensed to work as a guide anywhere in Mexico, when the opportunity to guide a group of tourists to perhaps Monte Alban or Yagul, or further abroad, Gilberto seizes the opportunity. But Mitla is his bailiwick.
Gilberto's Work as a Federally Authorized Guide at Mitla, Oaxaca
Gilberto works with anywhere from a single tourist with a keen interest in Oaxacan archaeology, to a large tour bus group. But it's when he's engaged by a couple, family or small group that his breadth of knowledge emerges. He invests the time to field a diversity of questions and provide detailed answers, drawing on his knowledge of not only Zapotec, Mixtec and other Oaxacan cultures, but also his ability to illustrate contrasts with ancient Egyptian, Mayan and Inca civilizations, as well as those in other parts of Mexico.
"When studying for my exams, I also had to learn about other world civilizations. However what I was required to study was a fraction of my current knowledge base. I keep up to date with scientific knowledge, and like to mull things over. What we think we know about pre - Hispanic cultures is not entirely based on archaeological data; a lot is interpretation. It's important to distinguish fact from conjecture. I'm always careful to do so when explaining Mitla."
Gilberto also keeps current with archaeological developments by regularly attending conferences sponsored by the department of tourism. When less than two years ago new archaeological finds near the Yagul site were reported, it was important for him to learn as much as possible through reading and seminars. "That new data helped to confirm what until then we could only say was conjecture. For example, we had hypothesized that the Zapotecs used ixtle [twine made from agave leaves] to lift the multi-ton palace lintels into place, but actually discovering 800 - 1,000 year old ixtle close to Mitla elevated that knowledge into the category of extreme probability, if not certainty."
Gilberto is easily engaged into discussion regarding his views on the relationship between Zapotec ethnicity and Catholicism. "While there are pockets of Oaxacans which maintain a strong cultural identity, I think I'm different from most," he confesses. "Sure I have a cross and image of The Virgin in my home, but being at Mitla day in and day out, inevitably considering my ancestors, puts Catholicism is a different light for me." Just ask Gilberto his thoughts about the construction of the first Catholic church at Mitla, right on top of a Zapotec pyramid.
Gilberto's fees for a guided tour of Mitla vary depending on the number of people. It's well worth the investment, making all the difference in your understanding of what you're seeing, regardless of whether or not you have a guidebook in hand.

1The Programa Pueblos Mágicos ("Magical Villages Program") is an initiative led by Mexico's Secretariat of Tourism (SECTUR), in conjunction with other federal and state agencies, to promote a series of towns around the country that offer visitors a "magical" experience – by reason of their natural beauty, cultural riches, or historical relevance. - Wikipedia
---
Alvin Starkman has been a fixture in Oaxaca since 1991, when he first began visiting the city on a frequent basis. Now a permanent resident of Oaxaca along with his wife Arlene, the two operate Casa Machaya Oaxaca Bed & Breakfast, combining the quaintness and personal touch of the best of B & B Oaxaca, with the comfort and service of a four star Oaxaca hotel. Alvin writes, consults to documentary film companies working in Oaxaca, assists tourists in visiting the sights in the state's central valleys, and works with chef Pilar Cabrera in organizing culinary tours of Oaxaca (http://www.oaxacaculinarytours.com).
---
This page has been visited times since May 15, 2011.
| Top of page | Main index | Search | What's new |