May 2011 update: Seis Palmas is now Espadin, serving Mexican comida by Chef Patricio Sandoval. - Tom

For years the bar at Villas Carrizalillo has been attracting patrons from nearby hotels and condos because of its spectacular view overlooking Playa Carrizalillo, entrancing sunsets, and amiable bartender Ricardo. Owners Amy Hardy and Edward Mitchell have parlayed those pluses, opening Seis Palmas, a remarkable restaurant, with its palapa perched even higher atop the cliff looking out over the ocean and beach.


The décor is striking, on the one hand sleek and modern, and on the other combining subtle nautical and traditional touches such as twine accenting the regal pillars, unique fishermen's traps above the long L-shaped bar, vintage oil lanterns now converted to candle light, and time-honored Oaxacan equipale tables and chairs. The distinctive oxidized patina of the floor highlights the chocolate and russet tones set off against the stark white beams and circular columns. The open air ambience assures welcomed breezes at all tables, each and every one of which is strategically placed so as to guarantee the panoramic vista for all.


One can aptly characterize the cuisine as Mexican / International, the latter given that the current intent is to feature foods with Thai/Aisian accents once a week. Otherwise management has wisely limited the menu selections, enabling the mix of American and Oaxacan kitchen and wait staff to master the overall concept of the restaurant: fresh fare consisting of a smart fusion of unique plates coupled with some old favorites, served attractively, and perhaps more importantly expediently, each patron at a table receiving his plate at about the same time (a major accomplishment for those accustomed to dining in southern Mexico).


Recently four of us decided to sample a diversity of appetizers and a couple of main dishes. The crisp calamari rings arrived promptly, served on a large rustic-styled plate with matching bowl in the center containing a tangy chipotle dip (all of the tableware was custom-made for Seis Palmas by an artisan and his family in Atzompa, just outside of the city of Oaxaca, and the hand-blown glassware was crafted in Puebla). The green bean tempura was served with a dijon-honey salsa. We completed our foray into finger foods with a shrimp cocktail consisting of 5 nicely cooked jumbos, tails draped over a deep parfait dish filled with lettuce, topped with sauce.


The tomato-onion salad consisted of tomato wedges, purple onion slivers and thin lengths of quesillo, the traditional salty Oaxacan string cheese. The green salad, with sesame seeds and julienne of beet and carrot atop a medley of lettuce mixed with avocado and tomato was served chilled, with a semi-citrus Thai-style vinaigrette. We decided to carry forward on a theme, and ordered the cream of beet soup, anticipating a disappointing calorie-laden cream to the extreme. To our surprise, a piping hot bowl of broth arrived, actually light to the palate.


The grilled pork tenderloin consisted of three large medallions resting alongside a healthy portion of white rice flecked with pieces of yellow, red and green pepper. The requisite fruitiness of the dish was captured by something hoisin-esque, which was in fact a honey-soya sauce combination setting off the rice and creating that welcome sweet, salty and savory amalgam. The side of string beans completed the presentation.


Unable to convince anyone to sample the whole red snapper, we returned to shrimp, having been assured by the owners that the suggested dish would not disappoint, and would leave our memories of the cocktail in the recesses of our collective mind. Camarones agridulce solved the mystery of grilling seafood á la kebobs, along with other ingredients with the result being each shellfish component, fruit and vegetable being prepared to an exacting degree of doneness--nothing neither under nor overcooked, the crustaceans done to perfection, maintaining an exacting crunch. The eight healthy sized candidates were divided between two skewers along with sixths of purple onion, pineapple chunks and red and green pepper pieces. The glaze on the shrimp was a bit thick for my liking, but my fellow diners found it perfect.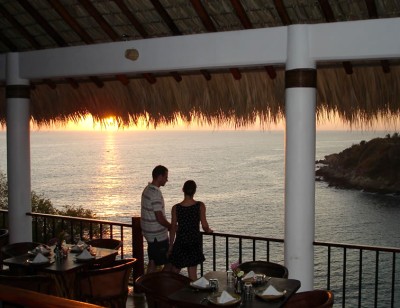 Sunset at Seis Palmas More Photos

Three of us decided to return the next morning for breakfast, and similarly found a welcome consistency, with light, healthy fare. Both the eggs a´la Mexicana and the spinach and quesillo omelette filled the morning spot, even though served with only dry whole grain toast. Each was virtually devoid of excess grease. The stack of hotcakes was modest by American standards, but without a doubt the amount which should always be served everywhere, in particular since it came alongside generous portions of sliced papaya and watermelon, interspersed with strawberry and grape pieces.


Our visits in early March, 2007, were less than three months after Seis Palma's inauguration. While some glitches in the restaurant's systems were detected, principally exemplified during the one evening visit by overcooked pork sneaking by the usually watchful eye of management, by all counts it appears that the newest addition to Villas Carrizalillo will thrive, the impressive ambience providing an assurance.

Seis Palmas at Villas Carrizalillo (tomzap.com/villascarrizalillo.html)
Playa Carrizalillo, Puerto Escondido, Oaxaca
Open six days (closed Thursdays) from 7:30 am until 10:30 pm
---
Alvin Starkman together with wife Arlene owns Casa Machaya Oaxaca Bed & Breakfast. Alvin writes restaurant reviews and articles about life and cultures in Oaxaca, and is a part-time tour guide.