Home >> Oaxaca >> Oaxaca, Oaxaca >> Green Housing
Principles of universal design and cohousing, as well as economic necessity, spur green housing project in Oaxaca, Mexico, for aging North Americans

an article by Alvin Starkman of Casa Machaya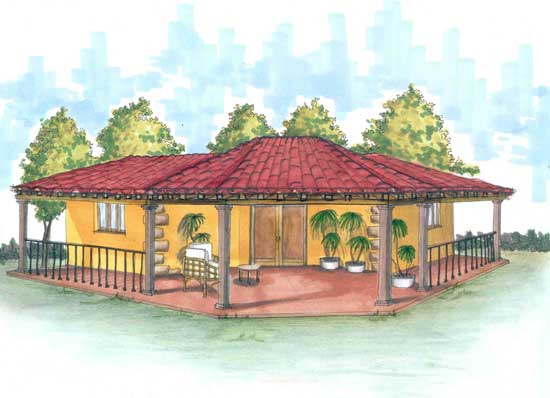 Proposed housing unit
At first blush David Hornick appears to be the most unlikely candidate to be spear-heading a housing development in the state of Oaxaca, one of the southernmost and poorest states in Mexico; his Spanish is sparse to be generous, until earlier this year he had never ventured to this part of the country, he's never designed or built a home, and he's lived virtually all his life in Schenectady, New York, leading a more or less typical, middle-class Jewish existence.

But Hornick had a vision, born of other life experiences which made him more qualified than most to proceed with the project. "One thing about me," he explained on his first trip to Oaxaca, "is that once I decide to do something, you know it's already been thoroughly considered - and then there's no stopping me."

For more than three decades Hornick has been a family physician, diagnosing and treating exclusively aging Americans … through home visits. He and wife Roberta, his partner in the medical practice, have learned that where and how we traditionally live is rarely conducive to graceful and easy aging from a position of economic security.

The answer, as I've come to conclude over the past several months of tutelage from Hornick, at least for creating a blueprint for the solution, is to import some of the characteristics of collaborative housing (cohousing) and as many key elements as practicable of universal design, into a region of the world where the concerns can best be addressed - Oaxaca … for starters. And that's exactly what Hornick's done.
Collaborative housing
Cohousing communities are usually designed as a series of attached or single-family homes along one or more pedestrian walkways or clustered around a courtyard. While the concept originated in Denmark, since the early 1980s it has been promoted in the U.S., and since then similar communities using the basic concept have developed throughout other countries in the Western World such as Canada, France, Germany and New Zealand.

Each community includes a larger building facility, a "common house," constituting the social center of the complex where neighbors can meet, dine, attend to activities which traditionally are not required on a daily basis (i.e. laundry), and even host guests in small apartments. The latter two points have implications in terms of minimizing overall cost for each resident, since space not normally occupied on a daily basis is omitted from individual homes.

While in the purest of models residents actively participate in the design of their own neighborhood, in this case prospective members are spared that effort - Hornick has devoted his entire adult life assessing the needs of Americans as their stages in life change. Accordingly, substantial progress for the Oaxaca project has already been advanced, and in fact there is a website in place, addressing those interested in pursing a lifestyle change in the foreseeable future. It currently includes photographs of the two proposed tracts of land, site plans and architectural drawings of the two models of home (http://www.mexicommunity.com).

Hornick prefers to avoid commonly used terms such as intentional or collaborative housing, as well as cohousing, in favor of simply "neighborhoods" and "communities." The former import the idea of consensus decision-making, which he does not believe is workable. He does envision, however, a "resident council" (perhaps similar to a condominium's board of directors) to assist with suggestions relating to the neighborhood. This indicates that his approach is realistic and his model is feasible. The project does require, he stresses, participants' acceptance of, and working together to promote, certain basic goals: energy efficiency; respect for the environment; the utilization of locally produced "green" materials (in construction and otherwise); affordability; and universal design which enables people of all ages to grow and mature well.
Universal Design
Universal design (UD) can be defined as the creation of products (including communication systems) and environments (including landscapes) which are usable by all people, to the greatest extent possible, without the need for adaptation or specialized design. It has often been associated with exclusively addressing the elderly and infirmed. And in fact there should be no doubt that within the context of the Oaxaca project the concept will be extremely attractive to those in their fifties and older, many winding down their careers and embarking upon a new phase of life, "retirement." But the project's use of universal design addresses more - compatibility with a natural progression of functional changes throughout the lifespan, according to Hornick.

So how does UD address all ages and levels of capability, and thereby make the project attractive to families at every life stage? Hornick explains:

"We're all born helpless and short. We can't reach most light switches until we are about four years old, long after we can stand and walk. Functional capability improves (normally) up to our mid- to late-teenage years, then begins to decline.

"Light switches can be lowered to three feet to be reachable by children as well as people in wheelchairs with limited shoulder mobility. Round door knobs can be replaced by lever handles that accommodate arthritic hands, but also permit people encumbered with arms full of groceries to open a door with a free elbow. Steps can be replaced by ramps, even at the entrance to a home. Lighting intensity can be adjustable to accommodate vision as it dims with age. Shower stalls can be built without that little step-up-and-over. And there are literally a hundred or more other alternate designs and products available in the marketplace which can be considered, which do not detract from either 'normal' functionality or aesthetics of the home."

Hornick has been consulted on seniors' apartment retrofitting projects involving production of state-of-the-art adaptive design prototypes. The Oaxaca project enables his wealth of knowledge and experience to be put into action using a slightly different orientation.

We're in an era when an increasing number of individuals and couples in North America are becoming disillusioned with the work-until-you-drop mentality, the less-than-optimum environments in which they've felt compelled to live and raise their families, increasing inaccessibility to basic goods and services including healthcare, and much more recently both insecurity in the workplace and shrinking nest eggs.
The Oaxaca Blueprint
Based upon Hornick's due diligence, Oaxaca proved to be a potentially attractive location to develop a prototype for what he initially labeled, when he first contacted me for advice in November, 2008, a "retirement community." That initial characterization was probably meant to pique my initial interest without having me ask too many hard-to-answer questions. I fell for it, and have been enthralled ever since, hosting David at our home, introducing him to a number of professionals he could potentially tap to advance the project, and advising him regarding prospective plots of land.

Latin American locations have distinct advantages over Canadian and American prospective project sites. While remaining north of the Rio Grande may initially appear attractive because of language, ease of access for friends and family as well as for return visits, and cultural familiarity, Oaxaca was selected because of its own unique set of pluses:
Access via ground transportation is consistently being improved and upgraded through Mexico's system of toll roads, already extending from various locations along the the U.S. border, directly to the City of Oaxaca; and via more convenient flight paths (such as being able to avoid Mexico City by using Continental's non-stop service from Houston, and Mexicana's from Los Angeles);
Its highly agreeable climate, 12 months a year, attractive both on an individual personal level and for providing solar energy;
Proximity to Pacific Coast beach destinations such as Puerto Escondido and Huatulco;
A modest cost of living (i.e. labor, public transportation, entertainment, food and taxes) relative to the U.S. or Canada, and even to the northern half of the country;
Availability of reasonably priced tracts of land, fertile enough and with sufficient rain and ground water to support partial self-sufficiency in terms of agricultural production;
A number of prospective development locations from which to choose, no more than a half hour's drive from downtown Oaxaca, assuring proximity to restaurants and cafés, galleries, museums and other cultural institutions, as well as health care professionals and hospital facilities;
Its burgeoning expat community (including programs facilitated through the English language Oaxaca Lending Library) together with support from the Canadian and American consulates;
Local populations which welcome non-Mexicans, motivated by both a recognition that Canadian and American immigration translates into more work and higher wages for a relatively depressed economy, and an innate desire to embrace foreigners with open arms;
An understanding on the part of many of its professionals, trades and business people, and government, of what the project hopes to achieve, and the potential for the growth of more of the same in other parts of the state.
Each of the two "eco village" sites identified on Hornick's website is equally attractive, meets all criteria, and easily facilitates advancing the set of common goals. The San Juan del Estado development consists of 25 acres and is about 30 minutes from downtown Oaxaca, and San Lorenzo Cacaotepec sits on 75 acres and is only 15 minutes from the city. Each is about 10 minutes from the town of Etla, known for its bustling Wednesday marketplace and production of dairy products, in particular the well-known Oaxacan cheeses (queso, and the more popular "string cheese," known as quesillo).
Each of the two developments will contain 30 detached homes of about 1,000 square feet, the common house, sheltered walkways, green and garden areas, and its own sources of water and energy as well as waste-disposal facility, thereby providing for independence from the vagaries of municipal, state and federal government utilities.
Hornick emphasizes that with more than 300 sunny days per year, the communities will be able to generate and store electricity using photovoltaic technology. Hot water will be produced using solar water heaters. Interior temperatures will be kept comfortable all year round using passive solar heating and cooling techniques - such as constructing walls of locally mined stone (known as "cantera"), clay brick or adobe, depending on relative direction of the sun and prevailing winds.
But self-sufficiency has its limits, and to some extent dependence on the broader Oaxacan community will be a key element. Hornick plans to develop relationships with residents of nearby towns and villages who are interested in employment as housekeepers, gardeners and personal care aides. In addition, there's a well entrenched practice in the state of Oaxaca whereby expats engage locals in an intercambio language arrangement, whereby a couple of hours a week informal meetings are held to help Oaxacans with their English and expats with their Spanish.
Hornick assures: "…both [locations] will have access to health care services via home care professionals who will live onsite and also via internet video teleconferencing with professionals at recognized centers of excellence." For several years he has been advancing his own medical practice along such lines. Naturally, in today's technological world he does not see distance, political boundaries, or differences in language and other aspects of culture, as impediments. "Of course there are challenges, but with perseverance they are readily overcome," he continues. "Look at where I was just a few months ago, with merely an idea and my index finger pointed to a strange location on a globe - and look at where we now are." Indeed, Hornick with his team of professionals (including Prometeo Sánchez Islas, Dean of the School of Architecture at a Oaxacan university) continue to work diligently on the project.
While visiting Oaxaca Hornick paid particular attention to indicia of cost of living, to the point of photographing sale prices in a supermarket (which attracted the attention of store management). He is currently attempting to pin down other costs such as transportation; medical insurance and other expenses; housekeeping, maintenance, landscaping and gardening (although he believes that it's important for residents to participate in such activities for exercise and to maintain a sense of function and purpose). "I'm trying to come up with a 'soft' figure to enable interested parties to determine if they can survive on social security alone." he reassures. But one thing is for certain - cost of living should be less than 50% of what most live on in the U.S. or Canada.
The Horizon
Hornick plans to begin pre-selling houses at summer's end or perhaps into autumn, at a small discount for those electing to participate early on in the project, as a kind of kick-start to the development. For him, and for most on his team, the motivation is pure altruism, having identified a sense of urgency on the part of many American, Canadians, and even Mexicans, and being in the enviable position of being able to address it in this fashion, without profit motive.

In a sense he's a pioneer, having started with a dream for a better, more respectful, easier and self-fulfilling life for others in a new environment, virgin land to continue with the metaphor. He plans to lay down roots in Oaxaca, and carry on a medical practice, encouraging others of similar means to follow suit.

It was clearly different for those who had the fortitude and the instinct to find something better hundreds of years ago in opening up the American frontiers. Today there's more of a necessity, yet with virtually no gamble involved. After all, investing between $100,000 and $150,000 to have a quality constructed new home, in a safe, secure southern climate, while at the same time substantially cutting expenses through supporting a sustainable living environment, shouldn't be too difficult a lifestyle decision to make - especially for those who have already been contemplating change.

---

Alvin Starkman received his Masters in Social Anthropology in 1978. After teaching for a few years he attended Osgoode Hall Law School, thereafter embarking upon a career as a litigator until 2004. Alvin resides in Oaxaca, where he writes, leads personalized tours to the villages, markets, ruins and other sights, is a film consultant, and operates Casa Machaya Oaxaca Bed & Breakfast, combining the comfort and service of a Oaxaca hotel with the lodging style of a quaint country inn.
---
This page has been visited times since August 16, 2009.
| Top of page | Main index | Search | What's new |