Serves 6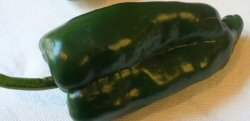 pasilla chile
3 cloves of garlic
2 small Oaxacan pasilla chiles
3 dried maguey worms
5 tomatillos
1/2 cup water
1/2 teaspoon salt

Roast the chiles lightly on all sides. Put them in hot water to soak until they become soft and slippery, about 10 min.
Lightly roast the worms on both sides until they begin to emit an aroma, about 1 min.
Roast the tomatillos in a saucepan, on both sides for 7 min.
Grind the garlic cloves and worms in a molcajete. Blend in the pasilla chiles and tomatillos, adding water to facilitate grinding. Add salt to taste.
| Top of page | Main index | Search | What's new |
---
The Pacific Coast of Mexico

www.tomzap.com

Tom Penick:&nbsp tom@tomzap.com