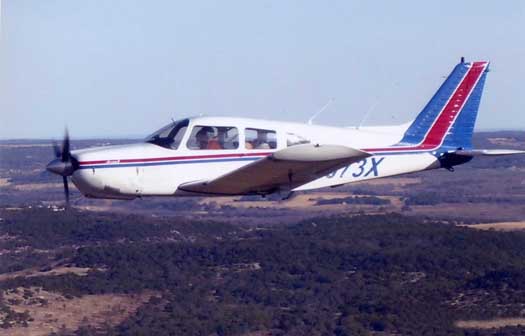 Our Piper Arrow
Background
My first flight to Puerto Escondido was in February 2009. This will be my second flight to Puerto Escondido and my fifth flight into Mexico.

What is different this time is that I have Enroute Low Altitude charts for Mexico loaded into the iPad. They come with the regular ForeFlight subscription. The approach plates and sectional charts, however, are not available with the subscription. I used my old flight plan with some refinements. I added some new user waypoints to get through the restricted airspace. And I took a more direct route, bypassing Oaxaca to the west.
Charts on the iPad
This is the first flight for me in which the Enroute Low Altitude charts have been available as part of my ForeFlight subscription on the Ipad. This saved me from having to buy an expensive Jeppesen trip kit.

The photograph at right is of the iPad displaying an Enroute Low Altitude chart showing our position just south of Tampico.
Flight Plan
We plan to stop in Corpus Christi for fuel and then fly on an IFR flight plan to Tampico, which will be the airport of entry. After staying overnight in Tampico, we will fly the remainder of the way to Puerto Escondido in the morning. The IFR altitude requirements are too high for the Tampico to Puerto Escondido leg, so that part of the flight will have to be VFR.

Now on to Corpus Christi.
eAPIS, Electronic Advance Passenger Information System
The US Department of Homeland Security requires that pilots of private aircraft transmit notices of arrival and/or departure and traveler manifest information to Customs and Border Protection electronically a minimum of 60 minutes prior to departure. The eAPIS web site is at https://eapis.cbp.dhs.gov/. I filled out my departure and arrival manifests prior to departure to Mexico. eAPIS saves your old manifests so you can use them as templates for the new ones. I used one of them but the departure manifest seemed to have the departure and destinations switched. I created a new one but it came out reversed as well. I recreated the manifest and the same thing happened although my email confirmation was correct. I decided that would have to do and sent an email to eAPIS reporting the problem.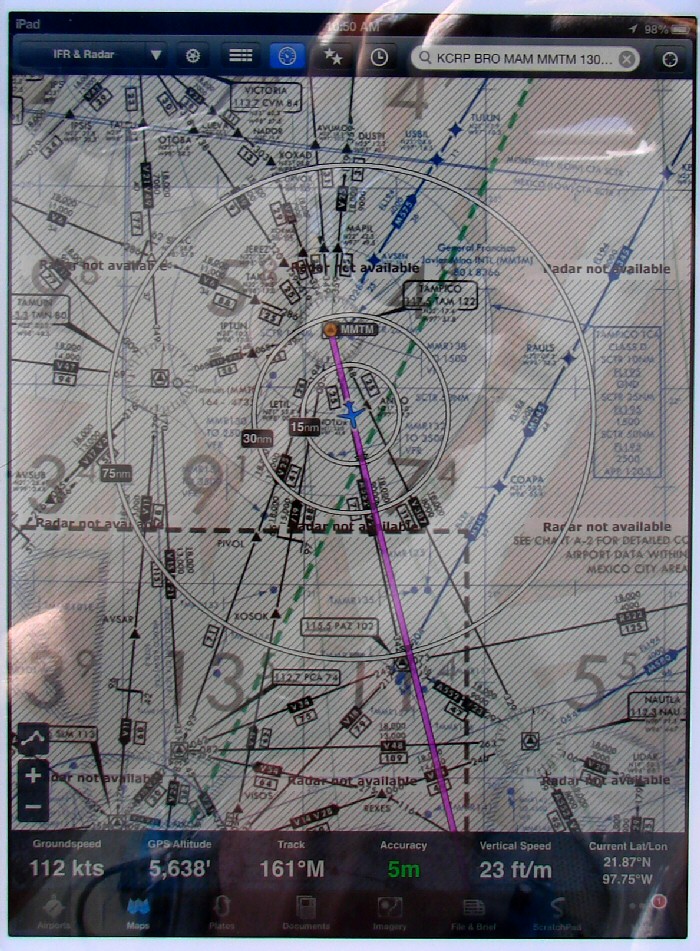 Enroute Low Altitude chart on the iPad showing our position just south of Tampico enroute to Puerto Escondido