Home >> Oaxaca >> Puerto Escondido >> Flight to Puerto Escondido 2009 >> Georgetown to Corpus Christi

< Flight to Puerto Escondido 2009 | Georgetown to Corpus Christi 2009 | Corpus Christi to Tampico 2009 >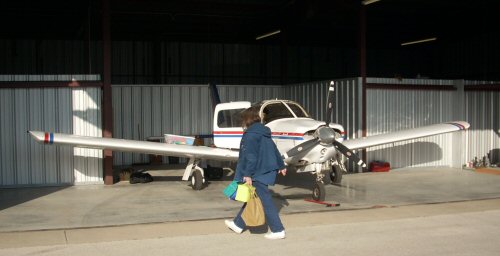 Loading up the Piper Arrow
Weather and Flight Plan
A cold front is blowing in and surface winds are generally 20 knots gusting to 30. There were only scattered clouds so we flew VFR to Corpus.
The Flight
Takeoff: 9:46 am Landing: 11:13 am Duration: 1 hour 27 minutes

Ground speed was enhanced by the strong tailwind. When we reached Corpus Christi, I requested to fly the ILS approach for practice even though the weather was VFR. I was anticipating perhaps having to fly an ILS approach in Tampico, where there were more clouds, so I could use the practice. We flew the ILS approach and stopped at Signature Aviation to refuel. The fuel is a little pricey but on the weekend there is a $0.50/gallon discount. There were numerous helicopter crews coming and going at Signature in support of the offshore oil rigs. Signature had some vending machines with sandwiches so we were able to have a lunch before departing.

I got a weather update and filed IFR to Tampico. Besides the weather being IFR, filing an IFR flight plan eliminates the requirement of notifying air traffic control about our border crossing because they are already monitoring the flight.

Now on to Tampico.
---
| Top of page | Main index | Search | What's new |