In August of 1998, amid much official fanfare and festivities, and after four years of restricted access and outright closings, what was the "Regional Museum" reopened as the Oaxaca Cultural Center. Located in the ex-convent of the Church of Santo Domingo, the new museum has been designed to be a multi-use municipal building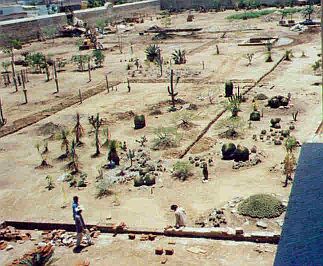 The cactus garden, still under construction, encompasses only about one fourth of the vast grounds within the walls of the Santo Domingo complex.

housing, among other things, a uniquely preserved private collection of old books and maps, extensive gardens complete with orchards, a cactus garden, a collection of artifacts gathered from Oaxaca's history from colonial to contemporary eras (including the desk and chair upon which Benito Juarez edited the proposed Constitution for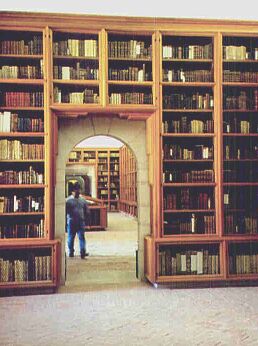 The Burgoa Library, named after one of Oaxaca's most famous educators, houses a large collection of 18th and 19th century texts. Researchers are combing this vast collection for whatever knowledge of Oaxaca's history it may contain.

a new democratic Mexico), an art gallery, and a fabulous collection of objects recovered from nearby archeological digs, including the gold artifacts taken from tomb seven at Monte Alban.

A vast and sprawling complex, the Center constantly surprises the visitor, with hallways inside of hallways, windows with magnificent views of the mountains, the surrounding neighborhood, the gardens and the interior courtyard. Until 1992, the ex-convent was used as an army base. It reverted to the city when the army moved to new, larger quarters.

Until a year ago, we lived a block away from the ex-convento, and the tick-tick-tick of masons' hammers were the music of our days and nights, as hundreds of workers labored around the clock shaping stones, some as big as sofas.