Home >> Oaxaca >> Puerto Escondido >> Puerto Fest
Puerto Fest

Puerto Escondido, Oaxaca, Blues Festival

Contact: Tony Richards
Telephone: 954 103-8708
Email: tony@soldelacosta.com
Web: puertofest.org


Puerto Escondido Rinconada
PuertoFest presents rock-blues and salsa artists on Saturday
There's going to be a mixture of music Saturday when Puerto Escondido's annual music festival offers presentations by a Canadian rock-blues artist and a local salsa band.
Guitarist Chris Caddell plays in the style of Stevie Ray Vaughan, has a soulful voice and his skill on the guitar is impressive. Jimi Hendrix and another Canadian, Colin James, are also influences. In 2010 Caddell and his band opened a concert in Toronto by Kid Rock and Bon Jovi.
The rhythm will change during the second part of Saturday's event when Grupo La Noche brings its latin sounds to PuertoFest. The eight musicians, formerly known as Radioactivo, plays a variety of Latin rhythms and it's certain that they will fill the dance floor during their show.
The festival is being held in the Rotary Club's facilities in Rinconada, where festival-goers can enjoy comfortable cabaret seating under the stars. The concert begins at 7:30pm; gates open at 7. There is a full bar and a variety of tacos on offer, such as cochinita pibil and chicken.
Tickets are $120 at the gate, and $100 advance. Those can be purchased at Abarrotes Luz in Rinconada, México L&Q on 3a Poniente No. 204, Muebles Conimar on Av. Oaxaca No. 805, at the Hotel Surf Olas Altas in Zicatela and at the French bakery in La Punta. The festival is a non-profit event; any and all funds raised are donated to local charities, such as Piña Palmera in Zipolite. For the past 13 years the festival, previously known as Puerto Music, has brought bands and musicians from Canada, the U.S. and other parts of Mexico to entertain visitors, expats and other residents in this tourist destination on the Oaxaca coast. This year PuertoFest is a project of El Sol de la Costa, magazine and website publishers, with the support of various local businesses as sponsors. More information can be found at puertofest.org.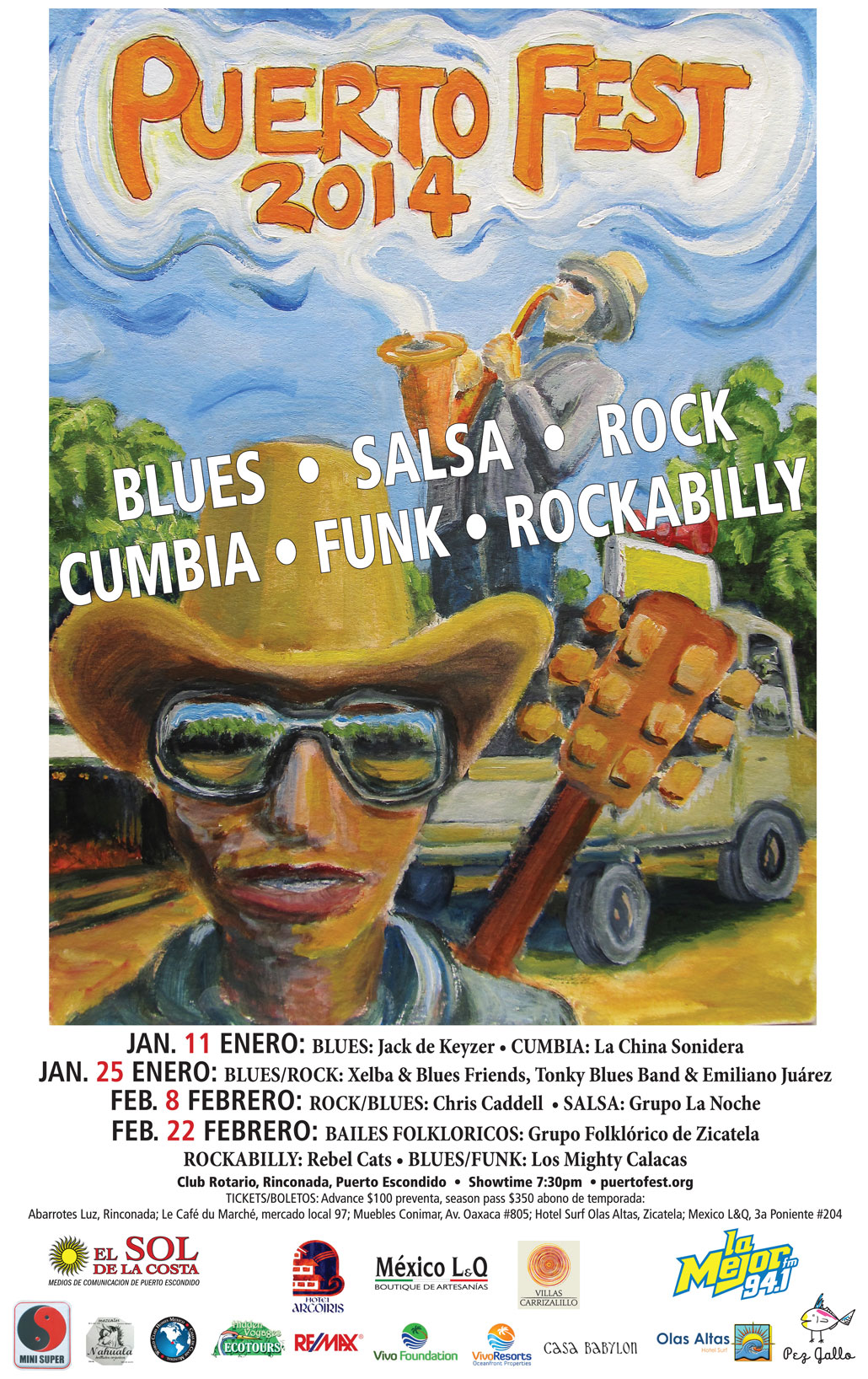 | | |
| --- | --- |
| Chris Caddell | Grupo la Noche |
This page has been visited times since November 4, 2006.
| Top of page | Main index | Search | What's new |
---
The Pacific Coast of Mexico

www.tomzap.com

Tom Penick:&nbsp tom@tomzap.com