Sunday evening we had dinner at the Hotel Santa Fé. The Sante Fé is located on Playa Zicatela and is one of Puerto's finest hotels. The restaurant is the palapa structure structure at left and has a great view of Playa Zicatela with sunsets over the ocean. It has the distinction of being Puerto's most romantic restaurant. We had sopa de cilantro, guacamole, sopa azteca, papas fritas, and ceviche with pastel chocolate for dessert.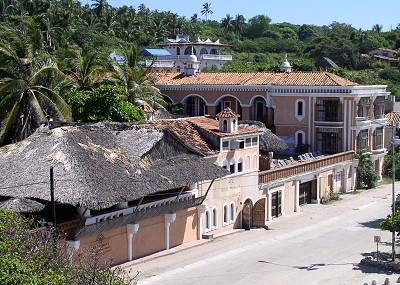 Hotel Santa Fé with Tabachin in upper background

After dinner we went over to the municipal plaza to see more tradicional dances. There are numerous events in the Fiestas de Noviembre which last through most of November and into December. The three main locations for events are Playa Zicatela, Playa Principal, and the municipal plaza west of Playa Principal.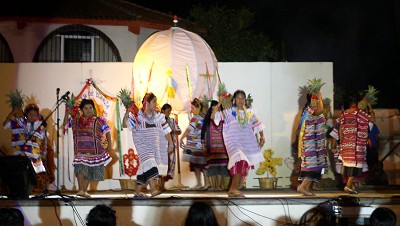 Dance of the Pineapple

Monday, November 27: Monday morning we had an 8:30 breakfast with owner, Paul Cleaver, at El Tabachin, a hotel/restaurant behind the Hotel Sante Fé noted for its breakfasts. In additional to regular breakfasts, the Tabuchin offers some vegetarian versions, some rather elaborate. For example Desayuno 11 is juice, fruit, vegetables with tofu and almonds, broccoli, chinese peas, asparragus, jicama, soy sprouts, onions, sweet peppers, carrots, etc. and coffee or tea. We went for a more basic breakfast with bacon, papas fritas, huevos rancheros in the Tabuchin style (with a tortilla lid). I especially liked the bacon, which was thick, crisp, and not very fatty. Some of the food served hear comes from their own farm and they even make their own brown sugar. We were impressed with the renovation work being done on the hotel with some very decorative tile work.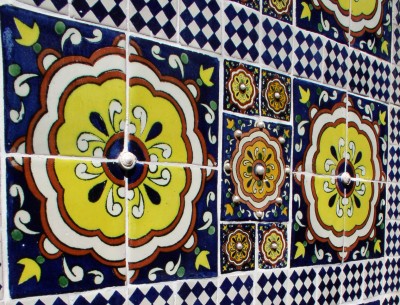 Tilework decorated with river pearls at the Tabachin

We spent most of the day at the twin beaches of Puerto Angelito and Playa Manzanillo. Once again, the ceviche served on the beach along with the cocos frios really hit the spot. We snorkeled in the rocky area between the two beaches and took some underwater photos. The snorkeling was good; I saw numerous reef fish including one large school of hundreds, and sea cucumbers and even a lobster.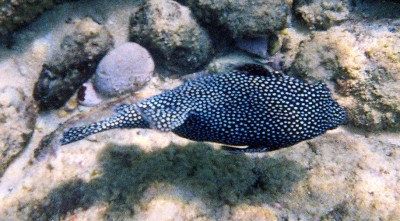 Puffer fish at Playa Manzanillo

Tuesday, November 38: This morning we had breakfast at Arcis on Playa Marinero. We packed up our stuff and headed for home. We had a good time in Puerto Escondido and met a lot of good people. We brought back more than a thousand photos and I am still working on getting them on the web. A good time was had by all.