Home >> Oaxaca >> Puerto Escondido >> Flight to Puerto Escondido 2014 >> Corpus Christi to Tampico 2014

< Georgetown to Corpus Christi 2014 | Corpus Christi to Tampico 2014 | Tampico to Puerto Escondido 2014 >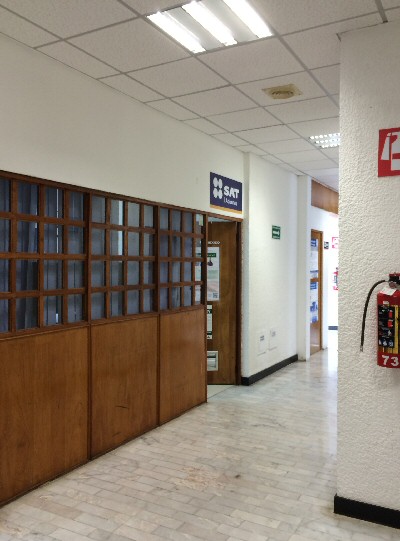 Offices at the Tampico Airport are conveniently located in the same hallway
Weather and Flight Plan
High pressure dominates the region but I have filed IFR to alleviate my responsibility of reporting the border crossing. The route is direct to BRO (Brownsville VOR radio station), then V163 to MAM (Matamoros VOR radio station), and V25 to Tampico.
The Flight
Takeoff: 11:52 am Landing: 2:36 pm Duration: 2 hours 44 minutes

I filed for 7000' but was cleared to 8000' and flew at that altitude toward Brownsville. When I transferred to Valley Approach, they had me climb to 9000' as they had the last time I made this flight in 2009. Valley Approach cleared me direct Matamoros before reaching BRO and I never talked to Brownsville approach. Perhaps I should just file direct Matamoros from Corpus Christi. I climbed to 9000' and was transferred to Matamoros Tower just before crossing the border.

Matamoros Tower does not have radar, so they asked my position, and asked me to report 10 NM south of Matamoros. This was because there was opposite traffic and Matamoros was gauging our separation by position reports. I crossed MAM at 12:56 pm. After reporting 10 NM south and several other points and passing the opposite traffic, which was a commuter plane at 10,000 feet, I was asked to report 35 NM south. At 35 NM I was transferred to Monterrey Center on 124.5. Monterrey Center asked me to report 60 NM north of Tampico. At 60 north I was transferred to Tampico Approach on 120.3. I was assigned 5000' and asked to report 25 NM north where I was let down to 3000 feet and cleared for the ILS 13 approach. Tampico did have a thin overcast at just below 3000' that existed only around Tampico. I could have found a way under it by cancelling IFR but I elected to fly the approach. Tampico doesn't have radar so there were no vectors to the approach.
At the Tampico Airport (MMTM)
If you are flying commercially to Tampico, the airport identifier will be TAM, but for pilots it is MMTM. This dual identity apparently exists for all airports in Mexico.

I taxied to the customs area, which I was familiar with from previous visits. We were not met by a Federale this time. It seems that now the Federales are only involved at departure when then ask for pilot name, license number, aircraft type and identifier, destination and previous landings in Mexico. We were met by customs who had us unload our bags and bring them inside. While Customs waited, we visited the offices of Imigración, Operaciones, Commandante, Aduana, and Sanidad. All of these offices except Sanidad have to be visited at least twice because forms are issued that must be stamped by the other offices and returned to the issuing office. This trip was complicated by the fact that I forgot to bring my Medical Certificate. The Commandante made it clear that I could not fly without it. Fortunately we were not flying out until the next morning so I was able to get my brother to scan the certificate and email it to the officials. So, as a reminder to myself, the documents that are required are:

Pilot's License
Medical Certificate
Mexican Liability Insurance
Airplane Registration
Airworthiness Certificate
Passport
Written permission to bring the airplane into Mexico if ownership is not in the pilot's name

We returned to Customs where will filled out a declaration form and pressed a button that gave us a green light meaning that we did not have to have our bags searched. However they seems nervous about the guitar case that was one of the luggage items. They had me open it on a table where they had a camera trained that recorded the contents.

With all the paperwork taken care of, I returned to the airplane and pulled it over to the Combustibles area for fuel. At Tampico, aviation fuel is dispensed from a fuel truck that remains parked at the Combustibles area, which is about 80' from Customs. Their office is located at the fueling area and they do accept credit cards. Unfortunately this time they could not get either of my credit cards to work so I had to pay in pesos. Fortunately we had enough pesos to do that, about 2000. A Federale came over and asked me if I was departing. I said no and that was all he wanted. I then pulled the airplane over to the adjacent parking area and tied down. Bring your own ropes.

As I have said before, the general aviation area of the Tampico airport is very well laid out. The offices mentioned above, the Combustibles area, airplane parking, and hangers are all grouped together and are adjacent but separate from the commercial aviation area. All are within easy walking distance of each other. All personnel are friendly and helpful and some are English-speaking. The main runway, 13/31 is 8366' long and there are two additional runways, 18/36 and 09/27 approximately 4000' long. Tampico is an excellent airport of entry into Mexico.
Overnight in Tampico
The final leg of our flight will be over the Sierra Madres to Puerto Escondido. Mountain flying is best done in the morning when winds are calmer. For this reason we spend the night in Tampico. On the last trip, we stayed at the Hotel Bonitto. There are about 5 Bonittos in Tampico. This one is the Airport Hotel Bonitto (833) 226-7450 although it was about 2 miles down the highway. It was okay but this time we tried another hotel that was closer, the City Express.

The City Express was $90 although I probably could have gotten it for less if I had reserved ahead. It is only about a mile south of the airport and they happened to have a shuttle at the airport when we were there, which was just a coincidence. They do not have a return shuttle service. The City Express is a 7-storey hotel located in a shopping center, Plaza Herradura, across from a Wal Mart. It is near a university and there are numerous fast food places nearby such as Dominos, McDonalds, TGI Friday's, Applebee's, Kentucky Fried Chicken, Popeyes, Dairy Queen, Burger King, Subway, Starbucks. We found a Mexican restaurant with a Mexican name, La Portón. We ate there and it turned out to be the Mexican version of Denny's. The menu had photos of the dishes and when they came they looked exactly like the photos. The hot sauce was not hot. Otherwise it was okay. Although this area was dominated by U.S. businesses, there were no other gringos around, just us.

The City Express had free Wi-Fi. There is a nightclub nearby that played loud music long into the evening. Even though we were on the 5th floor, the sound came in loud and clear. They have a continental breakfast included but it is nothing special and they had the worst coffee we have ever had. It had no coffee flavor but it did say coffee on the machine. Not recommended unless you like loud music and American junk food. Next time we'll try the Hotel San Antonio, which is further from the airport and one a busy road but in a more interesting neighborhood.
| Top of page | Main index | Search | What's new |
---
The Pacific Coast of Mexico

www.tomzap.com

Tom Penick: tom@tomzap.com