Home >> Oaxaca >> Puerto Escondido >> Flight to Puerto Escondido 2014 >> Tampico to Puerto Escondido 2014

< Corpus Christi to Tampico 2014 | Tampico to Puerto Escondido 2014 | Puerto Escondido to Tampico 2014 >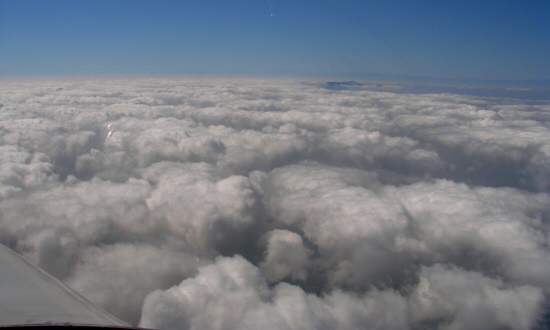 Cloud cover along the coastal plains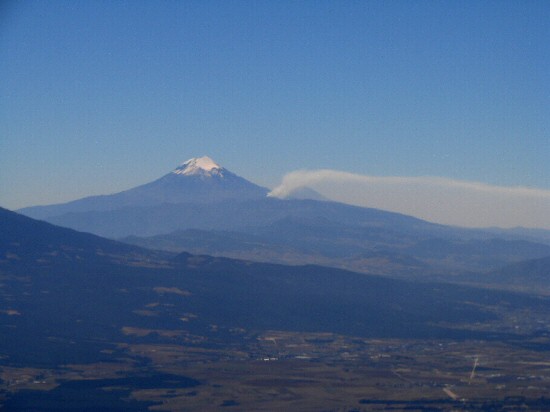 Pico de Orizaba 2014 with a fire on its slopes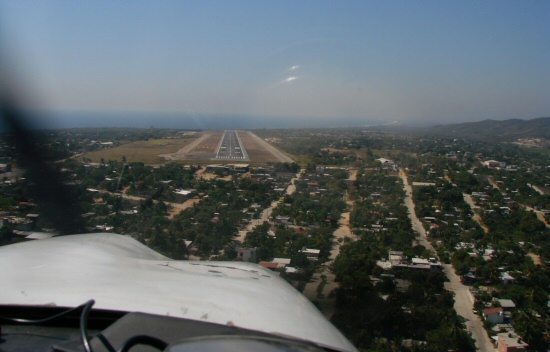 Approach to Puerto Escondido
Weather and Flight Plan
When we got up it was quite foggy but bright, so it appeared to be a thin layer. We proceeded to check out and take a taxi to the airport (80 pesos) in anticipation that it would rise. On arrival I check with the Commandante and he had received my Medical Certificate so I was cleared to fill out a flight plan. As I was filling out my flight plan I was informed that the airport was IFR so I filed for an hour in advance. But before I had finished, the airport changed to VFR. I looked out the window and saw poor visibility so I stuck with the one-hour delay. A direct route to Puerto Escondido is complicated by areas of restricted airspace that leave a narrow door through which I must pass. To help with that and the rest of the route through the mountains, I programmed the following waypoints into the GPS radio, some of which were actually added along the way to improve on the previous route:

MXANT 19°38.95'N 97°04.19'W (east of two restricted areas, cross at 12,500')
MXVAL 18°20.99'N 97°09.74'W (Valley of Oaxaca)
MXPIE 16°59.96'N 97°13.98'W (San Miguel Piedras, a town)
MXTEX 16°41.54'N 97°15.59'W (Monte Albán)
MXJUQ 16°14.24'N 97°17.45'W (Santa Catalina Juquila)

See .pdf file with maps showing these waypoints.

Restricted areas are not shown on the sectional charts so they must be plotted, as well as possible, from the rather low-resolution enroute low altitude charts. The restricted area to the east of the route, MM(R)-115, only extends to 7500' and I plan to be above it. To the right of the route, blocking a direct route to Puerto Escondido, is restricted area MM(R)-102 which extends from the ground to 52,000'. The enroute low altitude chart indicates that it is active by NOTAM (notices to airmen) and I haven't figured out where to get NOTAMs in Mexico. I asked the Comandante in Tampico about it and he said to avoid the area.
The Flight
Takeoff: 10:32 am Landing: 1:55 pm Duration: 3 hours 23 minutes Distance: 394 NM

See Photos of the Flight.

While loading the plane we were met by the Federale. I gave him a pre-printed list of the information he needed which is Pilot's name, license number, airplane make and type, tail number, and the Mexican airports we were to visit. We called the tower, taxied to runway 13, departed with a right turnout and headed for Puerto Escondido.

I filed for 11,500' but initially climbed to only 5500'. At the 30 NM reporting point I began a cruise climb to 12,500' to cross high terrain at MXANT. MXANT marks a narrow passage about 12 NM wide between two restricted areas. The area to the east only extends to 7500' and we are well above that. After passing MXANT I descended to 11,500 but needed to climb to 13,000' around MXPIE. Also need to deviate slightly to the west around MXTEX due to terrain. After passing MXJUQ, visibility was not as good so I could not see mountains ahead so I delayed my descent. There was no terrain ahead and I arrived once again so high at Puerto Escondido that circling and gear down was necessary to make the descent. In retrospect, the descent needs to begin before MXJUQ and will probably require gear down for most of the descent to avoid circling.

Compared to the last flight, this one was 10 minutes shorter and used a route west of Oaxaca rather than crossing Oaxaca.
At the Puerto Escondido Airport (MMPS)
If you are flying commercially to Puerto Escondido, the airport identifier will be PXM, but for pilots the identifier is MMPS.

We taxied to the ramp and found a parking spot. At Puerto Escondido there are only two tiedown hooks for the main wing, nothing for the tail. There were about half a dozen other general aviation aircraft on the ramp. We were met by a man who took our fuel order and filled the tanks. We did not see a Federale. We made our way to the terminal where there was another employee who directed me to the operations office which is outdoors. This time there was no instruction to walk the red line around the perimeter of the ramp. I paid the fuel bill with a credit card and the landing fee with cash.

We took our luggage into the terminal and I was directed to the Comandante office which is outside in front of the terminal. This is not such a good layout at the Puerto Escondido airport. I filled out the Close Flight Plan form, which the Comandante had already started for me. The Comandante asked about my return flight, whether it would be domestic or international. I think he was concerned with special arrangements that would have to be made for an international flight from Puerto Escondido. Our flight(s) will be domestic though. I mentioned that we might want to make a local flight before we departed and he said that would be fine. Everyone I dealt with at the airport was very friendly.

Now the return flight Puerto Escondido to Tampico.
| Top of page | Main index | Search | What's new |
---
The Pacific Coast of Mexico

www.tomzap.com

Tom Penick: tom@tomzap.com