Home >> Oaxaca >> Huatulco >> Flight to Huatulco >> Photographing the Playas >> Playas of Oaxaca

< San Agustín | Chachacual | Cacaluta >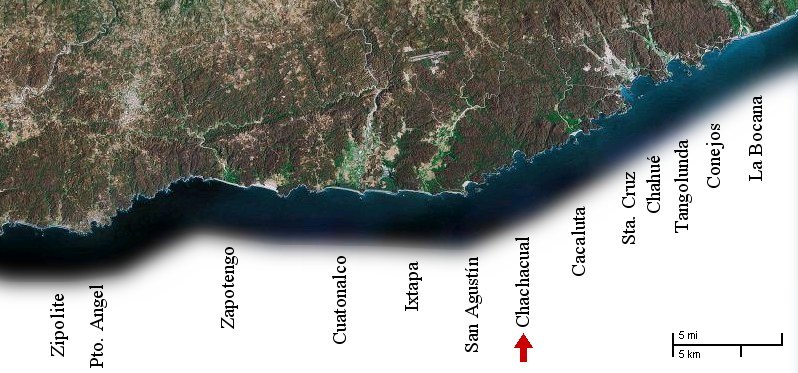 The photos on this page begin just east of San Agustín and continue to the east.
The story of tomzap's first visit to Huatulco is on this page.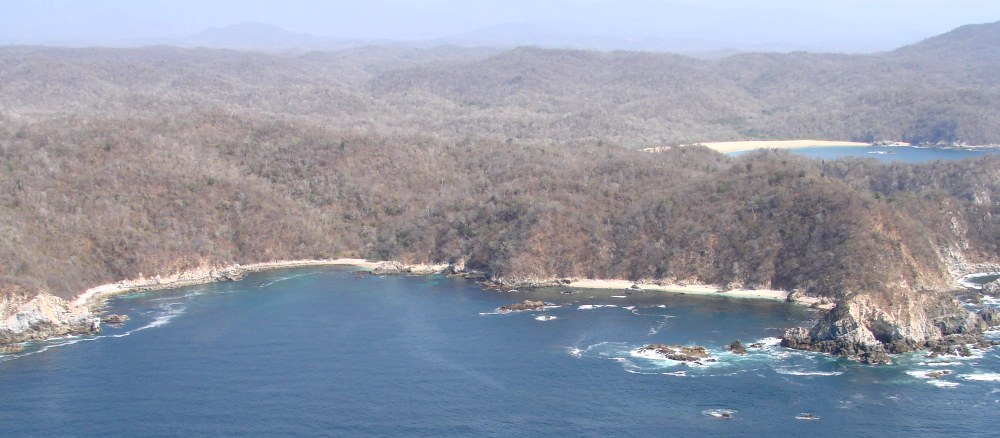 A small bay just east of Ensenada Riscalillo with Chachacual in the background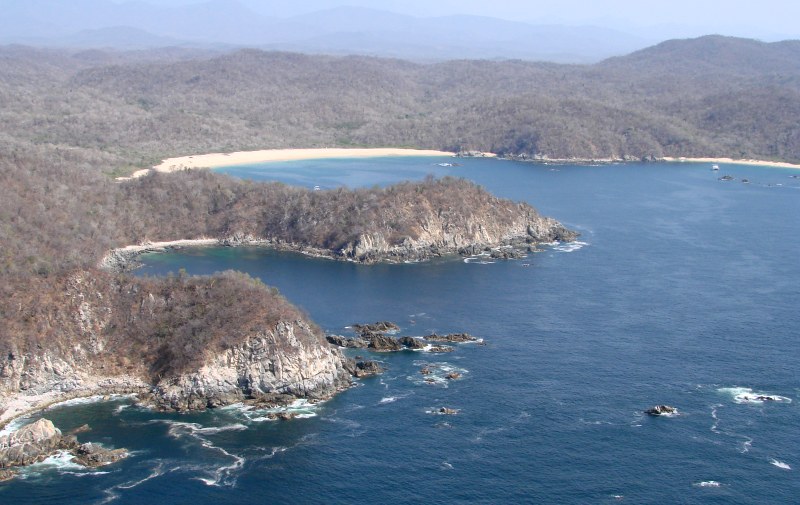 A small bay just east of Ensenada Riscalillo with Chachacual in the background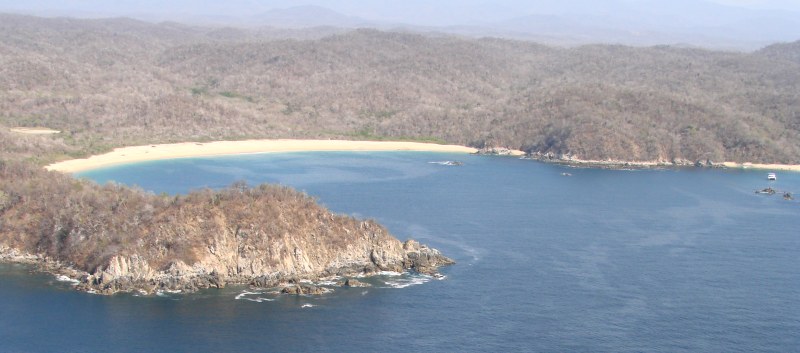 Chachacual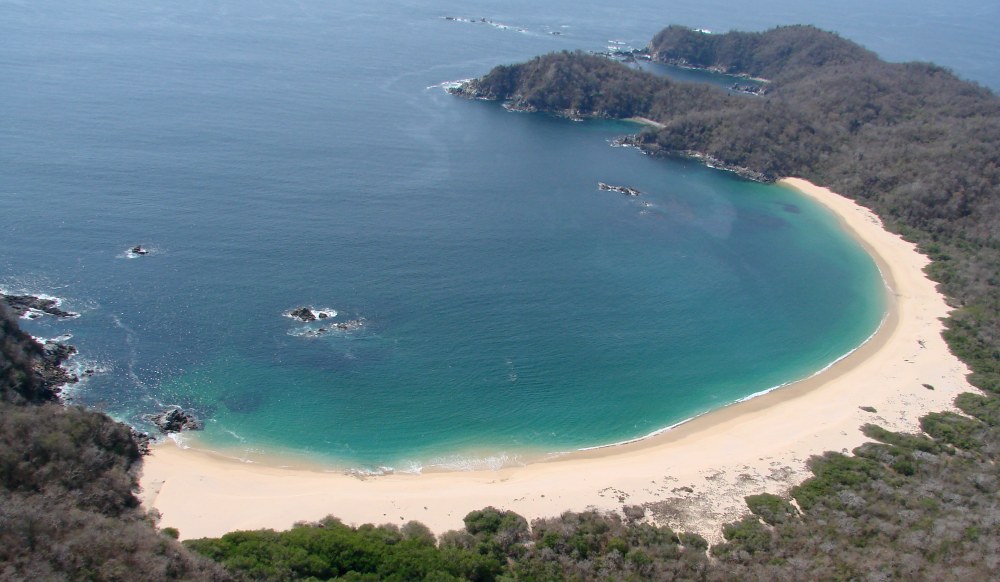 Playa Chachacual

Playa Chachacual at left, Playa la India at right
My earliest recollection of Huatulco involves this beach, Playa la India. It was 1982. My girlfriend (now my wife) and I were staying at the Hotel Soraya in Puerto Angel. We met another young couple there. A girl from the U.S. and her Mexican boyfriend were on an extended stay at the Soraya. I wish we remembered their names, but we don't. She did not speak much Spanish and he spoke practically no English. I don't think their relationship involved a lot of talking, but they seemed to have enough in common to sustain a close relationship.
We had driven down so we had a vehicle while they did not. They knew of a beach to the east and proposed that we drive there for a day trip. We drove to Santa Cruz, I think. This was years before there was any Huatulco resort. Santa Cruz was just a dirt road behind a row of coconut palms and palapas that fronted the beach.
Our Mexican friend negotiated in Spanish with some fishermen there and we were soon on our way by boat to Playa la India. We brought an ice chest with us with drinks, a papaya, and some snacks. We were dropped off at this beautiful deserted beach and the boat left us there.

Our beach was empty except for one large empty sea turtle shell. There was no land access to the beach. I have not returned to the beach since the 1982 visit and for years I was not sure which beach it was. I thought it might be Playa la Entrega, but the beach we visited is larger than that and there just aren't many large crescent-shaped beaches in the area.
My girlfriend and I had brought masks and snorkels with us and proceeded to see if there was anything worth looking at under the water. The beach sloped off gently into the water and as the depth approached 6 feet, the bottom changed from sandy to coral heads. The coral heads stood about 2 feet off the sandy bottom. The coral was teeming with brightly colored reef fish. This was the first time either of us had seen coral and reef fish outside of an aquarium and we were fascinated.

continued below ...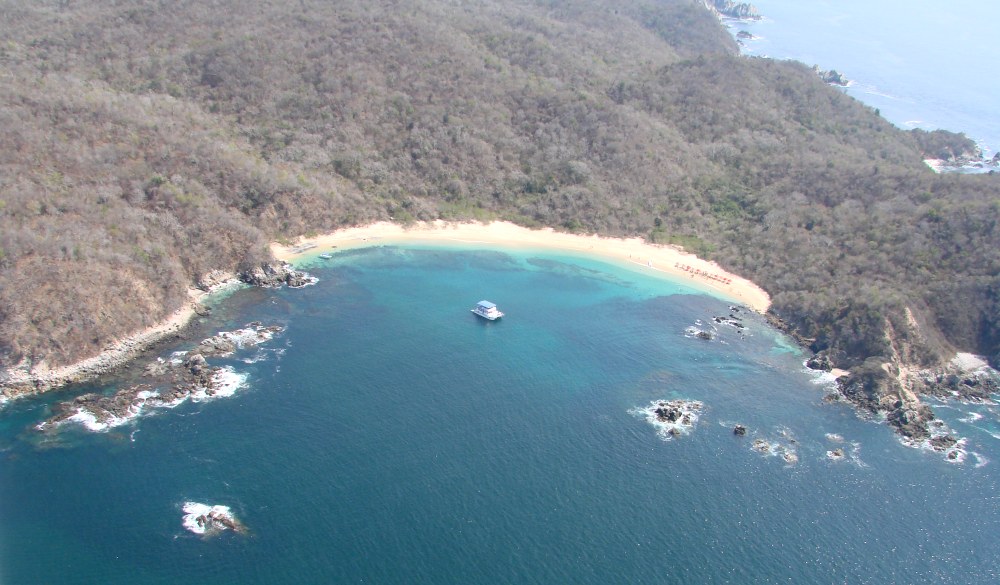 a tourist boat anchored at Playa la India in Bahía Chachacual
We told our new friends about what we had seen and the girl immediately borrowed one of our masks and swam out to have a look. She was likewise enthralled and called for her boyfriend to join her. He resisted and as it turned out, he could not swim. He was in a difficult position with the Mexican machismo and all, with the eventual result that he did get a look at the underwater world as well. I don't think I would have gotten in the boat if I could not swim. It was interesting to me that although I think he lived here, he did not realize until that day what an intricate and beautiful world lay just beneath the waves.
We spent about 4 hours on this beach and never saw another soul or another boat until our fishermen friends returned to pick us up. We count it as one of the best experiences of our lives. We ended up selling a mask and snorkel to our new friends who, like us, had discovered a new passion. My girlfriend and I later married and took up scuba diving. We both hold archaeological diver certifications.

It was fun to return to this beach, if only from the air 26 years later. Although there was a tourist boat anchored there, it seems relatively unchanged. Since I maintain a web site on Huatulco, it could be assumed that I favor development and am promoting this area. Actually, my feeling about the development is that it is inevitable and I will report on it but it is not something that makes me happy. I enjoyed my 1982 visit to Huatulco as much as my last. I do consider the addition of an airport to be an improvement.
So this is the story of my first visit to Huatulco. My girlfriend and I only had about a week to spend at the Soraya before we had to begin the long drive back to Texas. We parted with our new friends, who said they would probably still be there on our next visit. They were not, but it would be interesting to meet them again so if this sounds familiar, please email me. - tom@tomzap.com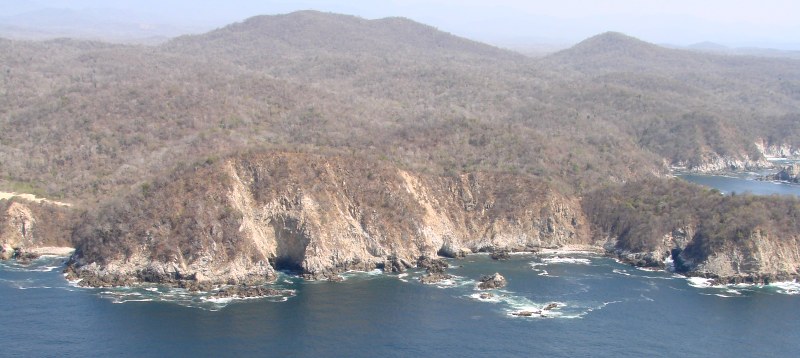 just east of Bahía Chachacual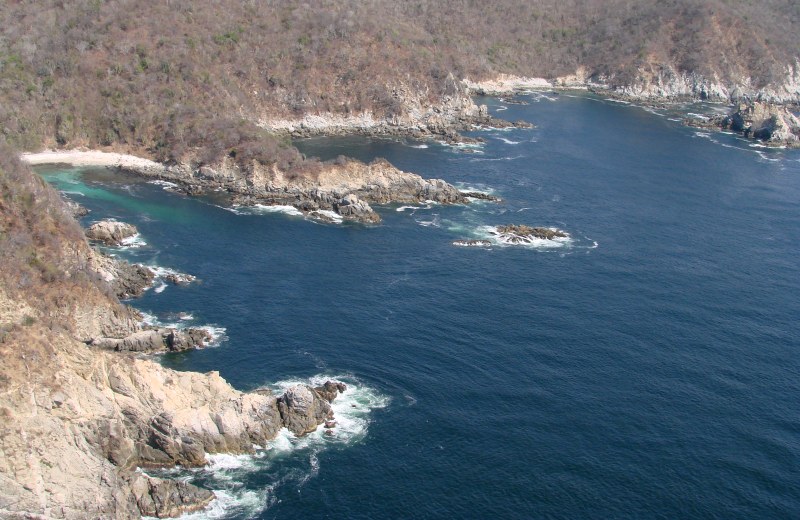 east of Bahía Chachacual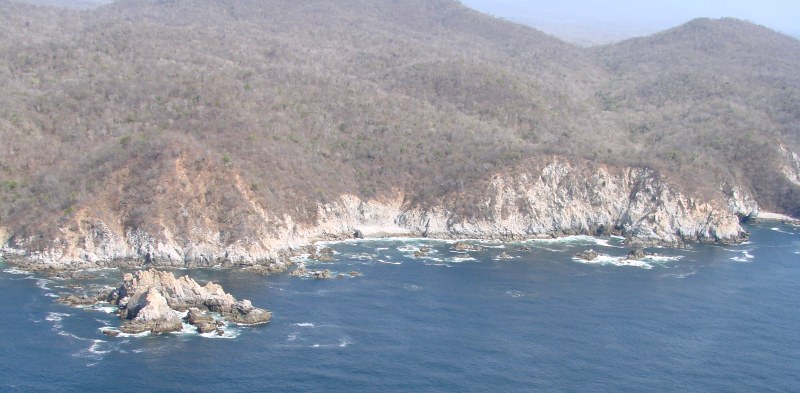 east of Bahía Chachacual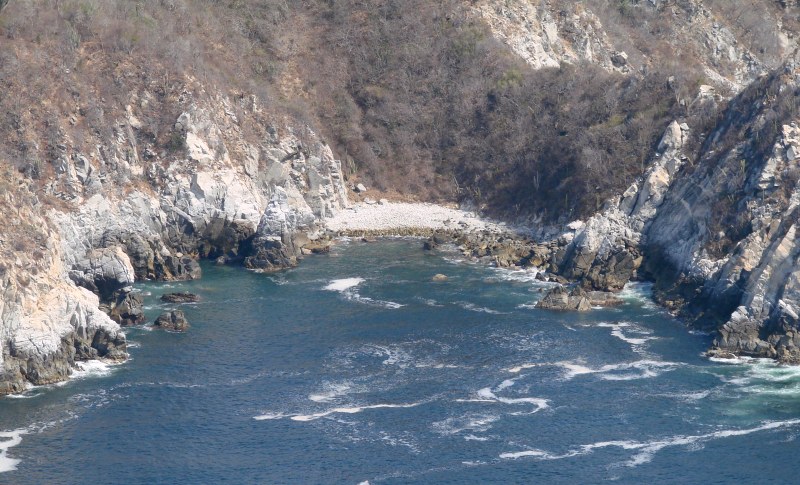 small cove east of Bahía Chachacual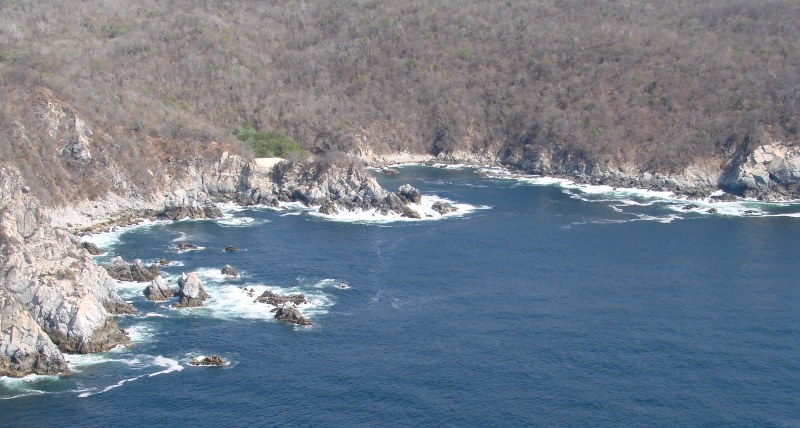 small coves east of Bahía Chachacual
< San Agustín | Chachacual | Cacaluta >
---
| Top of page | Photographing the Playas | Main index | Search | What's new |