Home >> Oaxaca >> Huatulco >> Flight to Huatulco 2016 >> Georgetown to Brownsville
Georgetown to Brownsville

Flight to Huatulco 2016

January 2016
< Flight to Huatulco | Georgetown to Brownsville | Brownsville to Veracruz >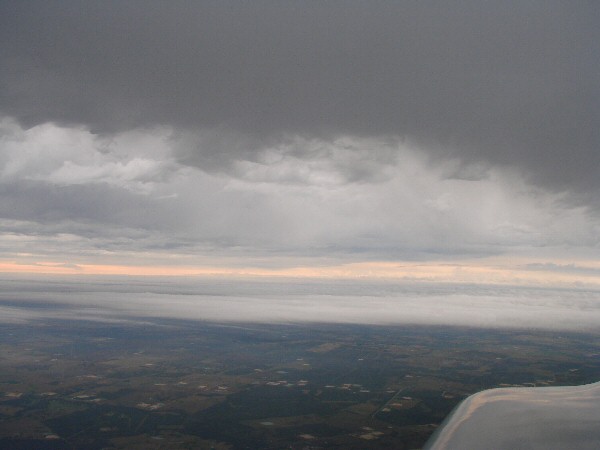 Low and high overcasts over Texas enroute to Brownsville
Weather
A weak frontal boundary caused the weather along the route from Georgetown to Brownsville to vary considerably and included some upper level overcast as well as low level overcast and some light rain activity. The amount of clouds in the forecast and the variability in conditions along the route led me to believe that IFR conditions would likely be unavoidable at some point during the flight.
Flight Plan
I filed an IFR flight plan direct Corpus Christi and direct Brownsville, essentially a straight line. I filed a second IFR flight plan from Brownsville to Veracruz. The weather was VFR along the Brownsville to Veracruz leg but the IFR flight plan insures that everyone is aware of the border crossing and I don't have to report it further. The international ICAO format is used for the flight plan into Mexico which makes the equipment reporting section more comprehensive.
The Flight
Takeoff: 8:51 am Landing: 11:26 am Duration: 2 hours 35 minutes

We loaded the plane with Nancy and myself, full fuel, oxygen (for crossing the Sierra Madre in Mexico), and a lot of baggage. Conditions were VFR at Georgetown with scattered clouds. We took off at 8:51 am and climbed to our cruising altitude of 6000'. After about 40 minutes of flight we encountered IFR conditions and light rain which lasted for about 30 minutes. The temperature was at freezing but no ice developed. Following this we were between cloud layers for much of the remainder of the flight but the weather at Brownville was VFR and we made a visual approach and landed at 11:26 am. The radio contacts along the route were Austin Approach, Houston Center, Corpus Approach, and Valley Approach.

At Brownsville we pull up to Southmost Aviation, just south of the tower, to refuel. We find out that Southmost used to a owned by a Penick, likely a distant relative.
Photos
Clouds are like mountains, more impressive when viewed in person rather than photos, but here are some cloud photos over Texas.


10:13 am after passing through rain showers


Ipad screenshot of Foreflight software inflight with realtime data input from a Stratus radio system. The flightplan information at the top of the screen
is actually for the next leg of the flight. The current position is near Corpus Christi, TX, enroute to Brownsville. Cloud ceiling heights are shown in
colored boxes in hundreds of feet with the purple ones being very low ceilings. Rain shower activity is shown offshore and behind the flight path.
I am somewhat off course to the east after having circumnavigated those red spots by the tail of the aircraft icon. Flight data for a nearby aircraft is
given at right. Fliying has become such an exercise in staring at screens and managing systems that one has to wonder how many of today's pilots
can still fly an airplane to the intended destination should these conveniences be unexpectly removed.


Big clouds offshore as seen in the Ipad screenshot above


The Gulf coast comes into view as the weather becomes VFR 22 minutes prior to landing.


Port Isabel. 11:07 am


Port Isabel. 11:08 am
Next leg is Brownsville to Veracruz
---
| Top of page | Main index | Search | What's new |